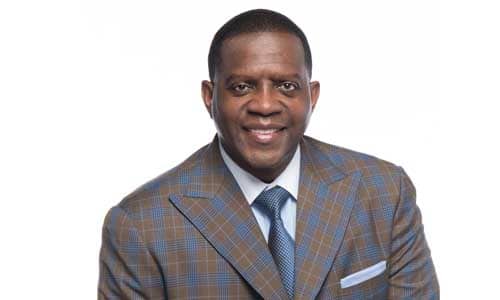 Voices of Faith Ministries' campuses in Stone Mountain and Conyers will provide grab-and-go Communion cups on Saturday, April 4, 9 a.m. to noon, in preparation for the church's online Communion Sunday worship services at 8 a.m., 9:30 a.m. and 11:30 a.m.
Bishop Gary Hawkins, Sr. said the church's elders, deacons and deaconesses would abide by social distancing orders as they pass out the ready-serve, sealed Communion cups during the three-hour drive-up period on Saturday.  He said the church leaders also would be wearing protective masks and gloves.
"Because of the coronavirus, we've had to be creative in how we conduct our worship services. On First Sundays, we have Communion and we intend to continue honoring God. The coronavirus will not stop that," said Bishop Hawkins. "Communion brings about a cleansing. It allows us to ask God for forgiveness and to thank Him for the sacrifice that Jesus Christ, our Lord and Savior, made by dying on the cross for us. Even though we are physically apart because of the virus, as a church body, we will be able to partake in Communion together. "
Bishop Hawkins said he is encouraging those who cannot get out to pick up a ready-serve Communion cup and worshippers in other areas to use crackers and juice during the online worship services on Sunday.
"You can just go back to the way we used to do it—Old School—use some Saltine crackers and grape juice and bless it," said Bishop Hawkins. "We want to honor God. If we ever needed Him, we need Him now."
Bishop Hawkins said within the last week, Voices of Faith has had people from other states and countries to worship with VOF online from as far away as Germany, the United Kingdom, the Middle East, Nigeria, Africa, Albania, and New Zealand.
He said new members recently have joined locally as well as outside of Georgia from Lansing, Illinois and Huntsville, Alabama.
"We are a church without walls with a global mission. We have been called to save souls globally," said Bishop Hawkins.
The address for Voices of Faith's main campus is 2500 Rockbridge Road S.W., Stone Mountain. The Rockdale campus is located at 1290 Sigman Road, Conyers.  Communion cups will be given out to those who drive up, while supplies last.
Voices of Faith will stream live Sunday worship services on its Facebook Page, web site(voicesfaith.org) and the Voices of Faith app. Worship services also are available via conference call at 712-451-0000. Enter code 491197.