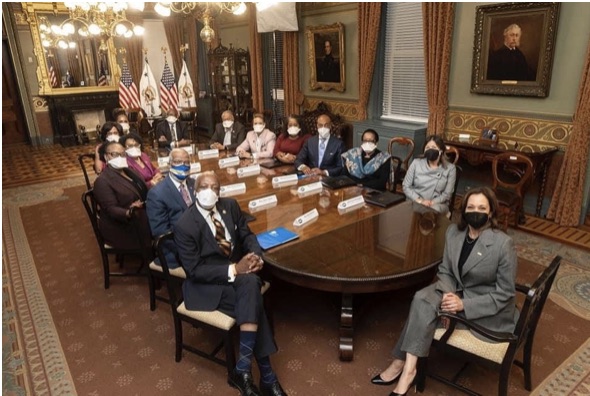 WASHINGTON, D.C.—Georgia State Rep. Billy Mitchell, who serves as president of the National Black Caucus of State Legislators (NBCSL), and other NBCSL officers met on Wednesday with U.S. Vice President Kamala Harris to discuss voter suppression and next steps to take to protect voters.
NBCSL called on the Biden Administration to host a national forum of corporate America's presidents and Chief Executive Officers to discuss the role they can play in opposing voter suppression efforts.
"Our intention for this sit-down with Vice President Harris was to get an update on the crucial voting rights legislation that failed in the Senate, to discuss a new strategy to get the legislation passed, and to understand what next steps the Administration will be taking to achieve this necessary task of protecting the right to vote for every American," Mitchell stated in a news release today (Feb. 24).
During Wednesday's meeting at the White House, Mitchell and NBCSL officers provided an update on the organization's ongoing national voting rights campaign and voting rights initiatives in respective states.
"We wanted Vice President Harris and her team to know that Black state legislators have been fully engaged in the fight to oppose voter suppression legislation in their state legislatures," Mitchell said. "We wanted them to recognize that we are closest to the ground in this battle and fear that the cascade of voter suppression being passed by state legislatures, if left unchecked, will reverse the voting rights clock and return American to a pre-Voting Rights era."
Vice President Harris acknowledged that there is a movement afoot to make it more difficult for people to vote. She cited the fact that the critical John Lewis Voting Rights Advancement Act the Biden administration supported to protect voters had failed. She vowed, however, that the Biden administration "would not give up."
"Sadly and unfortunately, there were not the majority of legislators who had the ability to pass that legislation present to weigh in. But we are not going to give up, because we fully realize that if we are to comprehensively address this issue, we need federal legislation," Harris said in her opening remarks.
Mitchell said that corporate America has been "largely silent" on this issue and his petitioned the Biden Administration to host a national forum with corporate America's presidents and CEOs.
"We wanted Vice President Kamala Harris to understand that although we have been working hard in our respective state legislatures to blunt the impact of voter suppression, we have had little success," Mitchell stated.    "…We see the need for a different tactic to address this dire circumstance that could result to a pre-1965 VRA environment for our democracy."
U.S. Vice President Kamala Harris welcomes NBCSL to the White House: https://youtu.be/qkhhGPtYons