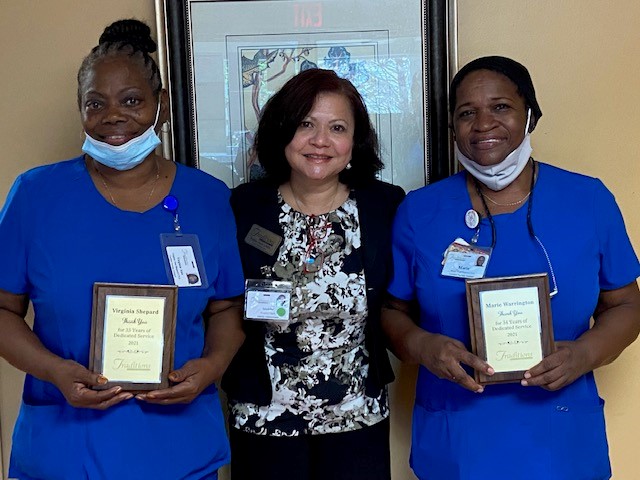 Pictured L-R: Virginia Shepard, Interim Administrator Soukhy Clark and Marie Warrington.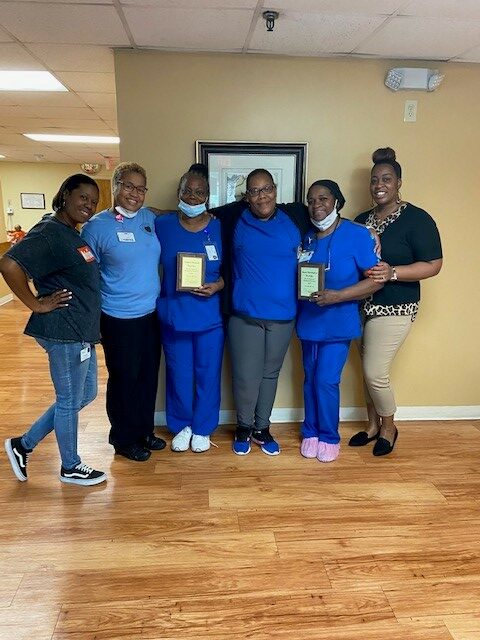 L-R: Tiameka Hudson-Collins, Latridra Roberts, Virginia Shepard, Yolanda Colbert, Marie Warrington and Desiree Roberson.
STONECREST, GA– Traditions Health & Rehabilitation Center, 2816 Evans Mill Road, recently celebrated two long-time certified nursing assistants during National CNA Week: Marie Warrington, who has worked at the center for 35 years; and Virginia "Ann" Shepard, who has worked there for more than 33 years.
"Certified Nurse Assistants are quite special to us as they provide warmth, love, and care to our residents, families, and associates.  Ms. Warrington and Ms. Shepard are great example of caregivers who continue to provide quality of care and services within our community," said Soukhy M. Clark, interim Nursing Home Administrator.  "On behalf of Team Traditions, I want to express our deepest gratitude and appreciation for all you do each and every day. Thank you for leading the way.
The nursing home presented plaques to Warrington and Shepard during the celebration, which also included food, prizes and games with residents during the June 21-25 CAN Week.
"We had a blast. These ladies(Warrington and Shepard) go above and beyond what their duties are on a daily basis," said Latridra Roberts, who serves as activity director for Traditions Health & Rehabilitation Center.