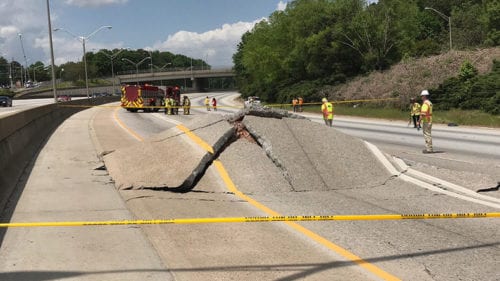 DECATUR, Ga.— Interstate I-20 Westbound, between Candler and Gresham roads, has been shut down due to buckling in the road. At this time, there is no estimated time when the section will be reopened. Motorists are urged to seek alternative routes until further notice.
All westbound lanes of I-20 are closed. Traffic is being diverted from I-20 Westbound at I-285 to either I-285 North or I-285 South. I-20 westbound entrance ramps inside the Perimeter at Columbia Drive, Candler Road and Flat Shoals Road are closed.
Construction crews from Atlanta Gas Light were working to fill an abandoned gas line underground when pressure built up and caused the road to buckle.
A motorcyclist, going about 55 mph, crashed when the road buckled. The motorcyclist was flung into air and thrown 10-15 feet from the site of the accident. The bike landed about 50 yards away. No cars hit the man. The victim is reported to be in critical condition with multiple fractures, likely including a broken leg. Witnesses said several stopped to help the victim as the bump in the road continued to grow.
The DeKalb County Police and Fire Rescue departments are on the scene as well as Georgia Department of Transportation which is assessing the situation.