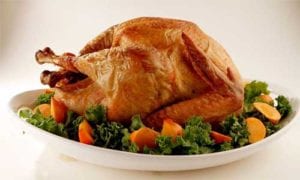 DEKALB COUNTY, GA—DeKalb County Government is partnering with several faith leaders to distribute 4,000 boxes of produce and chicken during its Thanksgiving food distribution to fight COVID-19 food insecurity exacerbated by inflation.
On Saturday, Nov. 20, DeKalb County and six local churches will celebrate Thanksgiving Day 2021 with a food distribution during which residents will receive one 20-pound box of food that will include fresh eggs, collard greens, sweet potatoes, shelled pecans, apples, oranges, bananas and a 10-lb. bag of chicken hindquarters.
"Rising inflation is making it more difficult for families to put food on their tables," said DeKalb County CEO Michael Thurmond. "DeKalb County Government is grateful to be able to help families weather this crisis."
Beginning at 9 a.m., rain or shine, 4,000 COVID-19 Care Baskets will be distributed on a first-come, first-served basis, at the following drive-through locations:
James R. Hallford Stadium, 3789 Memorial College Ave., Clarkston, GA 30021
Saint Phillip AME, 240 Candler Rd. SE, Atlanta, GA 30317
Shy Temple CME Church, 2030 Wesley Chapel Road, Decatur, GA 30035
Big Miller Grove Missionary Baptist Church, 3800 Big Miller Grove Way, Stonecrest, GA 30038
Berean Christian Church, 2201 Young Road, Stone Mountain, GA 30088
Rehoboth Baptist Church, 2997 Lawrenceville Hwy., Tucker, GA 30084
The Covenant Church, 1700 Corey Blvd., Decatur, GA 30032
Since May 2020, DeKalb County has provided fruit, vegetables, and protein to nearly 53,000 DeKalb County families.
The county is utilizing federal  funding to purchase the produce and protein. 
DeKalb Commissioner St Bradshaw: 2 food distributions, $100 gift cards for vaccinations
DEKALB COUNTY, GA—DeKalb District 4 Commissioner Steve Bradshaw is sponsoring two Thanksgiving food distribution events and one COVID-19 and flu vaccination event on Saturday, Nov. 20.
Bradshaw has partnered with Potter's House Community Development to host a food distribution, COVID-19 and flu vaccine event beginning at 10 a.m. at 1983 Brockett Road, Tucker.
While supplies last, $100 gift cards will be distributed to those who receive COVID-19 vaccination on the day of the event.
"I could not have imagined back in March 2020 that we would still be dealing with the COVID-19 pandemic nearly two years later," Commissioner Bradshaw said. "I am encouraged that DeKalb County's response to food insecurity has been aggressive and consistent in serving the most vulnerable among us."
Additionally, Bradshaw has partnered with Victory for the World Church to host a Thanksgiving food distribution event beginning at 11 a.m. at Freedom Middle School, 505 South Hairston Road, Stone Mountain, while supplies last. 
Women in DeKalb NAACP to host turkey box giveaway in Decatur
DECATUR, GA–Women in DeKalb NAACP  will give away turkeys and fresh produce boxes to needy residents on a first-come, first-served basis on Saturday, Nov. 20, 11 a.m. to 1 p.m., at The Gallery at South DeKalb Mall parking lot, 2801 Candler Rd., Decatur. The food boxes and turkeys will be provided until supplies run on.  Blankets also will be provided to those in need.
Free turkey giveaway at Ousley UMC in Stonecrest
STONECREST, GA—Cariblanta Sports & Cultural Club in collaboration with Stonecrest City Councilwoman Jazzmin Cobble and Ousley United Methodist Church will host their 2nd Annual Turkey Giveaway on Saturday, Nov. 20, noon. The event will be held at the church, which is located at 3261 Panola Road, Stonecrest. 
Springfield Baptist in Conyers to give away 1,000 turkeys
CONYERS, GA—Springfield Baptist Church in Conyers, GA will give away 1,000 turkeys and Thanksgiving food boxes for those in need on Saturday, Nov. 20, 9 a.m. – 12 noon, or until the food supply has been exhausted. In addition to the bi-monthly food distribution, the Thanksgiving Turkey giveaway is an annual community event that Springfield hosts each year.
"For the sixth year in a row, we are giving away 1,000 turkeys to families in need here at Springfield Baptist Church," said the Rev. Eric W. Lee, Sr.,  Senior Pastor , Springfield Baptistt. "Part of our core values is to Help Empower the World. We are grateful not only just to provide turkeys, but groceries as well for Thanksgiving for families in our local community. We are also thankful to be in a position to bless families beyond our shores by collecting toiletries to send to Haiti in conjunction with the Consulate of Haiti on Nov. 23 on our campus."
Pre-registration for the turkey giveaway is not required. This will be a drive-thru food pantry and participants are asked to remain in their vehicles and wear face masks.
All are welcome to attend. Food is distributed on a first-come, first-served basis at the church's campus, 1877 Iris Drive SE, Conyers.
For more information, visit www.sbcgrowth.church or 770-929-1111.