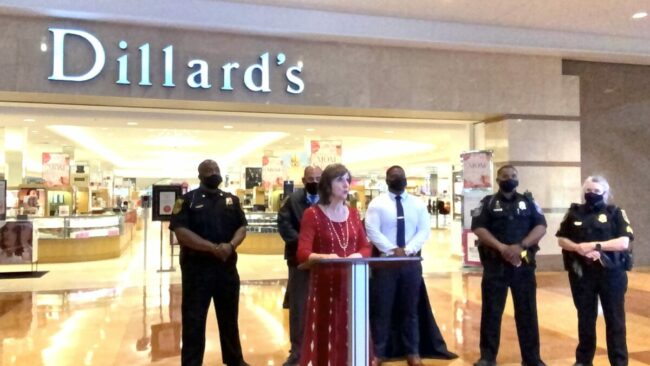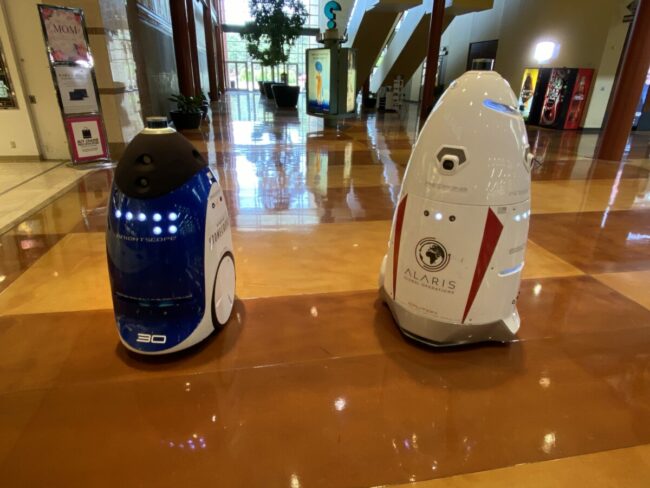 STONECREST, GA—Stoney and Pebbles may sound like family members of The Flintstones, the animated 1960s comical sitcom about a Stone Age family. But they're not.
Stoney, who weighs about 500 pounds, and Pebbles, who weighs about 350 pounds, are the newest members to join The Mall at Stonecrest security team. Mall officials introduced the two robots during a press conference held today (April 29) at the lower-level Dillard's court.
Patricia Edge, general manager of The Mall At Stonecrest, said the robots are being utilized in conjunction with several security upgrades, in addition to the mall's continued partnership with the DeKalb County Police to ensure the safety of shoppers. The mall's partnership with DeKalb County Police, she said, has been in place for nearly 20 years.
"Our strong relationship with the DeKalb County East Precinct is a foundational tenet of our security strategy," said Edge. "Properties such as Stonecrest are made more secure when security is enhanced with on-duty law enforcement who patrol the property based on specific requests by mall management and security."
Edge said the robots are being rolled out as the mall prepares to extend its hours of operation and more shoppers are expected. She said effective May 1, the mall hours will be Monday through Saturday 11 a.m. until 8 p.m.; and Sundays, noon to 6 p.m.
"The Mall at Stonecrest is not only surviving, but thriving. We're 98 percent occupied and many of our tenants have reported to us historic sale increases and they are doing extremely well," said Edge.
Hallmark Venture Group, Inc., based in Boca Raton, FL, announced March 15, 2020, that it had acquired the mall. Urban Retail Properties, LLC, which has managed the mall since 2012, continues to be responsible for property management, leasing and development, officials said.
In August 2020, the mall changed its third-party security companies to Alaris Global Operations, which brought on Stoney in December, and Pebbles about three weeks ago. Officials said Alaris has other robots at hospitals and other institutions but Stoney and Pebbles are the company's first mall robots.
Mall officials said Stoney and Pebbles have the ability to work around the clock with about a 15- to 20-minute charge. They also are able to aide in helping find lost children or spot problems such as slip-and-fall accidents using the integration of the latest monitoring technology and a skilled human team. Each robot is tied into the mall's CCTV and advanced Security Operations Center. The Security Operations Center is staffed by operators skilled in active monitoring and dispatch of the security and police on duty.
The robots also are capable of people recognition, license plate recognition, identity assistance, and two-way emergency communication. Stoney, the heavier robot, can be utilized both inside and outside, while Pebbles will be used indoors, officials said.
"Our technology allows security professionals to identify potential threats quickly and discretely, and alert security teams and law enforcement of the situation without causing panic and general disruption," said Shawn Boutot, founder of Alaris Global Operations.
The mall management team, Alaris Global and DeKalb County Police officials meet on a regular basis to assess safety protocols and to discuss strategies in enhancing public safety efforts at the Mall.
"Over the past several months we have greatly enhanced our public safety program to offer our guests a more comfortable shopping experience while at the Mall at Stonecrest," said Craig Delasin, CEO of Urban Retail Properties.
Other mall security enhancements include:
A complete revamp of the closed-circuit monitoring room with new technology and trained dispatchers who are well versed in emergency procedures, closed-circuit monitoring, and technology integration is underway.
A new cloud-based application for guard metrics, reporting, and documenting safety issues.
A continued Emergency Management Plan (EMP) is in effect with staff and law enforcement drills to increase response time.
Compensating security personnel at a higher wage, increasing the ability to retain a highly trained employee without experiencing rapid turnover.
Retained the DeKalb County Police sub-station in the mall.
"Our new comprehensive approach to security includes superior personnel, training, technology, an emphasis on safety, communication, and collaboration," said Edge. "Ownership and management are committed to doing what's needed to further ensure a safe and secure environment."
The new security enhancements and changes are being noticed by the Mall's retailers.
"I have been a tenant at the Mall at Stonecrest for nearly 20 years. The security enhancements being put in place – especially the robots – help make our customers, and my staff, feel more secure," said Ronald McKenzie, owner of First Class Barber Shop. "It is encouraging to see technology being used in mall security and I appreciate what the mall is trying to do."
Stonecrest City Councilman Jimmy Clanton, whose District 1 includes the mall area, said he believes the robots will be a benefit for shoppers.
"I think it's a great thing to be the first city in this area to have that type of technology. It just adds another level of security. People can come to the mall and know that there is more security," Clanton said. "I think that extending the robots to the parking area will be a great beneft. I like the fact that the robots can read license plates so if there are problems, there's added surveillance."