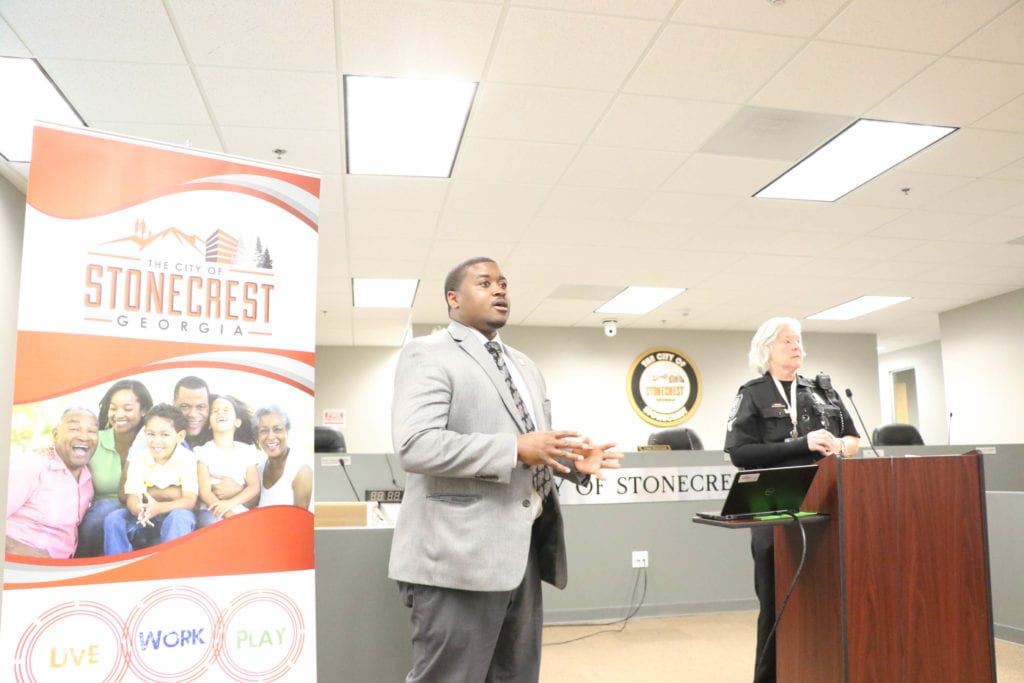 L-R: Al Franklin, the city's Community and Cultural Affairs director and DeKalb Police Officer G.T. Karabeika
By Sarita Mason
Intern, On Common Ground News
Authorities say police presence will be greater to direct traffic and monitor the 2019 Atlanta DeKalb Caribbean Festival, which will be held on May 25 at The Mall at Stonecrest.
DeKalb police said during a community informational meeting on May 15 that they plan to have 98 police officers, 38 security officers and two code enforcement officers to ensure adequate coverage of the Memorial Day weekend event.  Last year, 70 officers worked the festival, which was held for the first time in the city of Stonecrest. The event drew 25,000 people to Stonecrest and organizers are planning for the return of some 25,000 this year. The festival, which has been held in other locations in the past, is in its 31st year.
Stonecrest hotel representatives said at the meeting they are already booked for Memorial Day weekend as a result of the event.
Mayor Jason Lary said he is excited about the festival's return to Stonecrest. He urged residents to learn as much about the parade route, traffic plans and other details .
"We don't want folks to get locked out of their homes or can't get down their street. Twenty-five thousand strong will be here this year again. We're doing a much better job with regard to improvements to traffic and the parade route this year," Lary said.
DeKalb Police Officer G.T. Karabeika, who is leading the police team supervising the festival, said organizers are using a different vendor for security officers because many did not report to work last year. Karabeika said even without the additional security officers, however, the 2018 event was peaceful. There was one scuffle that resulted in one arrest and that scuffle involved a security officer, she said.
"We've had many meetings about this event and plan to have a safe event," Karabeika said.
Karabeika said the festival organizers' contract regarding police security stipulates the parade must start promptly at noon. The outdoor festival will beginat 4 p.m. and will end at 10 p.m., she said. Last year, a number of employees who work at businesses in and around the mall, as well as guests staying at Stonecrest hotels, were stuck in gridlock traffic longer than expected due to the parade starting late, officials said.
Al Franklin, the city's Community and Cultural Affairs director, said the city is urging businesses to plan ahead.
"We're telling businesses to let their employees know that they need to leave for work much earlier on that day.  We already know that it is going to take about four hours for the parade to pass," said Franklin. "Traffic is going to be restricted in and around Mall Parkway during that time."
Franklin said parking for fees will be available at the former Target store and AEI Start-Up Factory. Free parking, he said, will be available at Salem Bible Church, 5460 Hillandale Drive. City officials and organizers, he said, are trying to secure shuttle services from Salem and additional parking.
City officials said businesses have the right to restrict parking to their customers and designate parking for their employees, if they choose to do so. However, councilman Jimmy Clanton, who attended the meeting, encouraged businesses to look beyond the inconvenience the crowds might bring for that one day and instead, devise ways to capture customers.
"We're going to have 25,000 people in the city. Businesses can pass out fliers offering specials and coupons to convince customers to come the next day," said Clanton, who represents District 1, which includes The Mall at Stonecrest.
Clanton also said although code enforcement officers would be out issuing citations to vendors who do not have permits to sell food or other products, the city would offer "a day of grace" for businesses that erect special signage for mrketing.  He said residents also would be permitted to offer their homes for parking and rentals, if they choose. Rowdiness in communities, however, would not be tolerated, and police will intervene if there are problems, officials said.
During the event, there will be three ambulances and bike medics set up around the perimeter of the festival, Fire Marshall representative David Smalls said. Also, along the parade route, there will be four water stations for participants to use.
The parade will start at the intersection of Mall Parkway and Turner Hill Road and end at Stonecrest Square near the Hilton Garden Inn.
The festival will be held near the Sears and Kohl's parking lot. Admission to the festival, where vendors, music and live entertainment will be, is $20 for adults and children 6 and up. Admission is free for children ages 5 and under.
For more information about the festival, visit Atlantacarnivalbc.net
OCG News Editor Valerie J. Morgan contributed to this report.