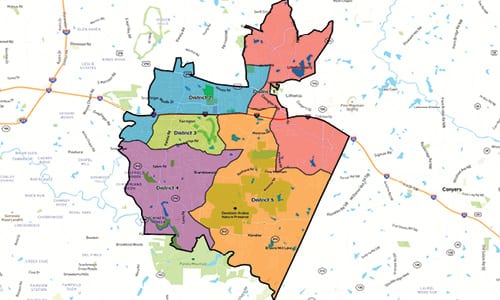 It's official. The U.S. Postal service recently added Stonecrest, GA to its list of acceptable city and state designations.  City residents may now use Stonecrest, instead of Lithonia when mailing letters or packages using the Postal Service.  Stonecrest ZIP codes will remain the same.
"This is one more step that will help put Stonecrest on the map," Mayor Jason Lary said.
The news comes as the city turned a year old this month.
Amazon, United Parcel Service, and FedEx have not officially followed suit. However, the USPS change will make it easier to bring the other three shipping services up to date.   Staff members are also working with Google Maps to get Stonecrest as a designation.  Currently, Stonecrest addresses placed in Google still default to Lithonia.
"The process of updating Google is a lengthy, arduous one. The City's GIS manager submitted the necessary information to Google last summer," said Adrion Bell, the city's communications director.
Google periodically verifies and updates their records, Bell said.  In February, the city's Google classification was upgraded from a "new submission" to "under review."
"We hope this process is completed by the summer," Bell added.