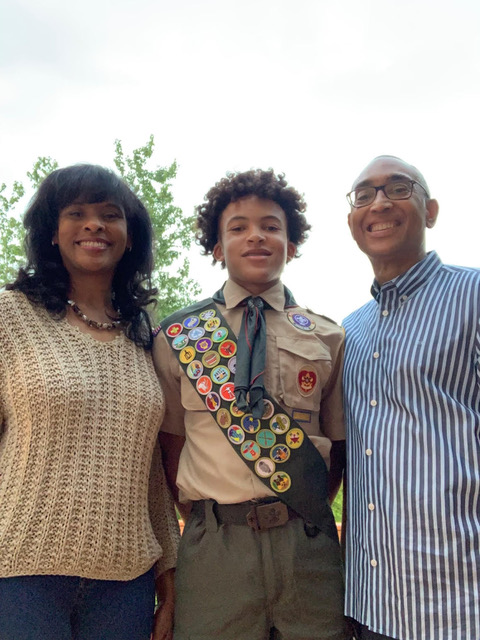 DECATUR, GA—W. Burrell Ellis, III of Stone Mountain, Georgia, has earned the highest advancement award the Boy Scouts of America offers to scouts, the Eagle Scout Award. 
Ellis was recognized iduring a ceremony on Sunday, April 24, in downtown Decatur. A member of Troop 106, chartered at Greenforest Community Baptist Church in Decatur, Ellis is one of approximately four percent of all Scouts who attain the Eagle rank. 
An Eagle candidate must earn 21 merit badges, highlighting accomplishment in specific subject matter areas, and successfully complete a community-related service project. For his project, Ellis planned, developed and led a team of scouts and adults in the construction of four planter benches at the entrance of a local elementary school in an under-resourced community.
Ellis earned a total of 31 merit badges while attaining Eagle Scout rank before entering 10th grade.
Ellis was forced to postpone his award ceremony for almost two years due to the COVID-19 pandemic. Ellis now joins other outstanding American citizens who have become Eagle Scouts, among them former President Gerald R. Ford, Jr., astronaut Neil A. Armstrong, Guion Bluford, Jr., aerospace engineer and the first African-American in space, cinematographer Steven Spielberg, and head of the F.B.I., William Sessions. 
Ellis is a member of Saint Philip AME church in Atlanta and is active in track and field and band ensemble at The Paideia School, where he is currently a junior.   
Ellis is the son of former DeKalb County CEO Burrell Ellis and Attorney Philippa Ellis.
Photo: W. Burrell Ellis,III (center) is pictured with parents, Burrell and Phillippa. Photo provided.