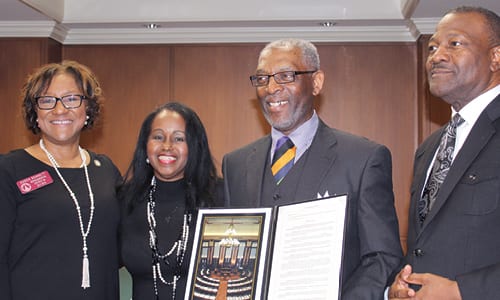 State Rep. Karen Bennett, District 94, recently honored Fairfield Baptist Church's retiring pastor, the Rev. Micheal Benton, for his contributions to the community.
Bennett presented a resolution saluting Rev. Benton for 41 years of pastoring at Fairfield.  He was honored at the state Capitol and a reception was held for him, his wife, Dr. Y'vonne Benton, and several members of Fairfield.
Fairfield Baptist Church, located at 6133 Redan Road, Lithonia, was established in 1885. Benton was the fifth pastor to serve the church. He retired on Dec 31, 2017, after serving as Fairfield's pastor since 1977.
"I felt it was important to recognize the contributions Pastor Benton has made as the spiritual leader of his congregation and the significant contributions that his ministry has made in the community," said Bennett. "He, and Dr. Benton, have been mentors, leaders, champions of the family and a source of comfort, guidance and spiritual leadership to all."
Among his many accomplishments, Rev. Benton led the Fairfield through the construction of two sanctuaries and a family life center. He has licensed over 75 preachers and ordained five pastors and 40 deacons. His commitment and his powerful biblical teachings were pivotal to the growth of the church.
Fairfield Baptist Church's new pastor, the Rev. Melvin Brooks, will be installed on April 22. Before accepting his new assignment, he served as pastor of the New Cedar Grove Life Changing Church in Buffalo, N.Y.