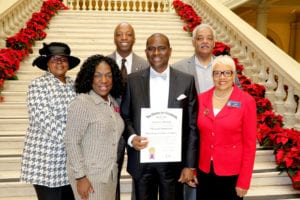 State Rep. Dee Dawkins-Haigler is poised to do more to expand her role in spreading global networking and fostering economic development opportunities around the world.
At the Capitol on March 7, Dawkins-Haigler honored Segun Ogunsanya, the CEO of one of the largest telecommunications companies in Nigera, as she announced the U.S. launch of the Organization of World Leaders (OWL). Dawkins-Haigler founded the consortium of global leaders in business, government, health and law last year while visiting Dubai and decided to expand OWL with its launch in the U.S.
"Most people see me only in my legislative role and not for the global work that I have been doing for the past 12 years," said Dawkins-Haigler, who will be returning to Dubai on Dec. 10 to induct ambassadors and prime ministers from around the world into the Women's International Hall of Fame, another effort she founded.
The Dubai trip is one of several that Dawkins-Haigler has scheduled abroad as she wraps up her tenure this month as a state legislator and turns to a new chapter in her life. She says she'll be taking others with her abroad, including Africa, through an initiative called "Global Give Back."
"The goal is to take people to the continent who have never been before," said Dawkins-Haigler. "We want to show people how to build wealth and showcase the success of others. We want to change the world one leader at a time."
Dawkins-Haigler said that Ogunsanya is one of those success stories. As CEO of Airtel Network, Limited, the third largest telecommunications company for subscriber-based customers and the second largest in Nigeria, Ogunsanya's Airtel earns $1.5 billion in revenues per year. Dawkins-Haigler said she met Ogunsanya in London during a conference of leaders from around the world.
State Sen. Gloria Butler, who, as the out-going vice chair of the Georgia Legislative Black Caucus, helped to welcome Ogunsanya, applauded Haigler for her global work. Butler was one of the state lawmakers who traveled with Dawkins-Haigler last year to Nigeria and in 2014, she traveled with Dawkins-Haigler to Dubai.
"I had never been to Africa so I was glad that I made the trip. I met many people that I learned a lot from. I enjoy learning. You're never too old to learn and I think we should take advantage of these opportunities," said Butler. "I'm excited for Dee as she continues the global work that she was involved in before coming to the State Legislature."