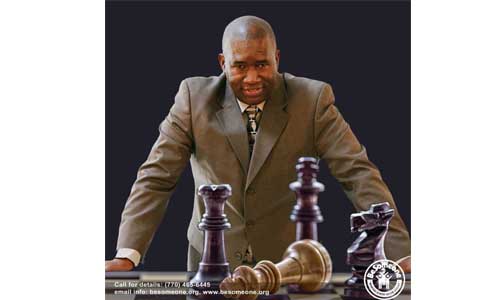 Be Someone Inc., the Stone Mountain-based youth development organization that has taught over 75,000 youths how to make the right moves in their lives by learning how to play chess, has been named to the lineup of virtual summer camps offered by DeKalb County.
Registration is now open for the six-week "Chess for Success" program, which will be held Mondays, Wednesdays and Fridays from 10:30 a.m. to 11:30 a.m., June 22—July 27. Classes are designed for ages 8 – 18 and are free.
Be Someone's Executive Director Orrin Hudson, who has traveled the country teaching his program, is excited about the opportunity to reach more DeKalb youngsters. He calls the classes "an unprecedented six weeks of virtual learning that will not only teach youths how to play and be successful at chess but provide invaluable life skills throughout the sessions."
Hudson, who was an at-risk youngster growing up, was taught the game of chess by a high school teacher who saw potential in him.
"It changed me but more importantly, it saved me," says Hudson.  "I have dedicated my life to reaching as many young people as I can through this wonderful game that teaches so much."
Hudson, who served in the U.S. Air Force and was an Alabama State Trooper before founding Be Someone in 2000, feels the timing for the chess classes is critical.
"Considering the upheaval we are witnessing in our communities right now, it is time our youths know how to think before they move and that every move they make has a consequence," Hudson said. "Our children need hope.  When they lose hope, they make bad decisions. My classes teach youngsters to make the right moves on the chess board and in life."
Students will hear Hudson encourage them to "make every move their best move by thinking ahead;" keep your "head up, pants up, grades up and never give up;" and "think it out, don't shoot it out."
Hudson has invited a number of special guests to join him during the virtual program including Channel 2 Action News reporter Tom Jones, WAOK radio talkshow host Rashad Richey and New Jersey Superior Court Judge Wendel E. Daniels.
"I guarantee our students a unique experience that will be so much fun, they won't even realize they are learning much more than how to play a game," Hudson said.  He adds, "Parents and guardians will find this summer program especially valuable for their young students when they return to their classrooms."
The "Chess for Success" program is one of several virtual programs sponsored by DeKalb County's Youth Services.
The Be Someone class will have a maximum of 50 participants and the first 25 registrants will receive a free chess kit.
More information, including registration details, is available by visiting www.dekalboys.org. Scroll down the list until you find "Chess for Success" and click on the icon or click on this link https://dekalboys.org/chess-class/ You can learn more about  Hudson and Be Someone at www.besomeone.org.