On Monday, Aug. 21, people across the nation will have the chance to witness a once-in-a-lifetime event: The sun, moon and earth will align in a grand show, temporarily darkening the daytime sky, creating a total solar eclipse – something that hasn't occurred in the continental U.S. for nearly 100 years.
Residents in metro Atlanta are among the lucky ones. We can expect to see a 97 percent eclipse.
The coast-to-coast eclipse will travel from Salem, Oregon to Charleston, South Carolina and last about two minutes at its peak with the moon covering the sun. Observers outside the path of totality will still see a partial solar eclipse where the moon covers part of the sun's disk.
The eclipse begins at 1:05 p.m. and the max eclipse occurs over the Atlanta area at 2:36 p.m. and ends at 4:01 p.m. To see the path of totality, visit NASA's website.
Solar Survival Guide
Protect your eyes
NEVER attempt to view an eclipse with the naked eye or improper equipment. Keeping your eyes protected when looking at the sun is very important. Not protecting your eyes during an eclipse can result in permanent eye damage and even blindness.
DIY: Pinhole viewer
Many people have opted to order eclipse viewing glasses, but there is another option for viewing the eclipse with supplies you may already have at home. A pinhole viewer allows you to project the image of the sun onto a screen, protecting your eyes from the sun's harmful rays. View the step-by-step guide on the National Science Teachers Association's website.
Viewing Alternative
Viewing outdoors isn't your only option for seeing the eclipse. If you can't make it outside to view the eclipse on August 21, tune in to www.nasa.gov/eclipselive to watch the eclipse live – no protective eyewear necessary. NASA's facebook page will also livestream the solar eclipse.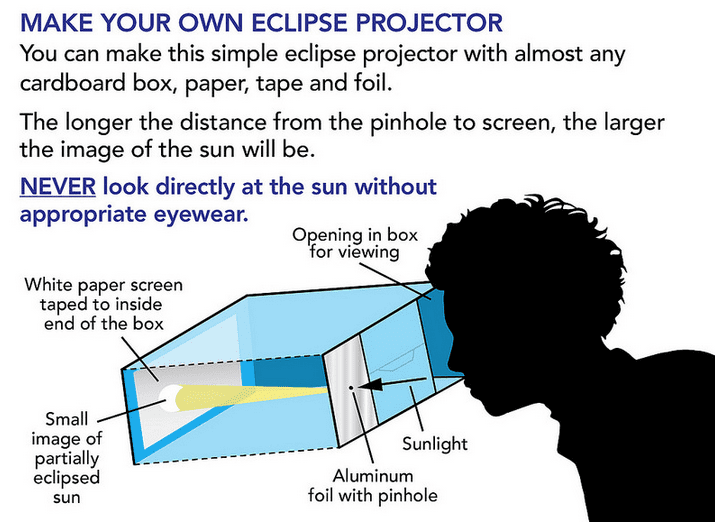 Last minute local Solar Eclipse Preparation Workshops + Viewing Parties
DeKalb County Public Libraries
Come learn about the upcoming partial solar eclipse and how to view it safely. Each participant at the programs will receive a free pair of eclipse glasses, while supplies last. Glasses provided in partnership with STAR Library Education Network and NASA @ My Library.
Northlake-Barbara Loar Library
Saturday, Aug. 19, 2 – 3 p.m. OR Monday, Aug. 21, 11 a.m. – 12 p.m.
3772 LaVista Road, Tucker
404-679-4408
*Open to first 100 participants
Decatur Library
Monday, Aug. 21, 10 – 10:30 a.m. OR 11-11:30 a.m.
215 Sycamore Street, Decatur
404-370-3070
*Open to first 100 participants.
GWINNETT
Parkwood Farms
Children of all ages are invited to learn about solar eclipses and build their very own pinhole solar viewing box at Parkwood Farms Therapy Center, 2519 Parkwood Road, Snellville.
Norcross Library
Join solar system Ambassador Ginny Mauldin-Kinny to learn about the eclipse and life cycle of stars, Saturday, Aug. 19, 2 – 3 p.m at the Norcross library branch, 6025 Buford Highway. Hands-on NASA@ My library activities will be available for all ages. The program is free and open to the public.
Centerville Library
View the solar eclipse at the Centerville library branch Monday, Aug. 21, 1:30 – 4:30 p.m., 3025 Bethany Church Road, Snellville. Participants will watch the eclipse at 2:30 and learn about the science behind a solar eclipse after the viewing. All ages are welcome.
Snellville Branch
Space out at the Snellville library branch, 2740 Lenora Church Road Monday, Aug. 21, 2 p.m. Explore space with books, games, a craft, and view the partial solar eclipse. Eclipse viewing glasses provided while supplies last. Ages 10 and under are welcome.
Earn a Junior Ranger Eclipse Explorer badge
Download the National Park Service's free Junior Ranger Eclipse Explorer activity book at  www.nps.gov to learn about the 2017 North American Total Solar Eclipse and how to protect your eyes from the Sun. Complete the activities and return to your local National Park to receive your Junior Ranger Eclipse badge.
Here are some of the best spots to view the historic
solar eclipse event in metro Atlanta:
Stone Mountain Park, 1000 Robert E. Lee Blvd, Stone Mountain
800-401-2407
1 – 3 p.m.
Solar Eclipse Event $15 Adult or Child
Advance purchases of the Historic Pass will include complimentary solar eclipse glasses Valid for Aug. 21, Limited quantities of NASA-approved protective eye wear featuring the Stone Mountain Park Logo will be made available for purchase for $4.99 plus tax on the day of the event.
www.stonemountainpark.com/Events/Solar-Eclipse-Event
Panola Mountain State Park
2620 Highway 155 SW
Stockbridge, GA 30281
770-389-7801
Eclipse Excursion
1 – 4 p.m.
Register in advance. Solar eclipse glasses will be provided.
http://explore.gastateparks.org/event/255493
Fernbank Science Center
99 Atwood Road NE
Atlanta, GA 30307
678-874-7102
See the solar eclipse through solar filtered telescopes for safe viewing and enjoy programs throughout the day and live streaming of the eclipse as it crosses the country.
Dunwoody Nature Center
5321 Roberts Drive
Dunwoody, GA 30338
770-394-3322
Solar Eclipse Viewing
1 – 4 p.m.
A solar eclipse party with peak eclipse at 2:35 p.m. will take place in the baseball fields. Special viewing glasses will be supplied while they last. Park at the Baseball Fields and bring a blanket or chairs.
Ponce City Market Skyline Park
675 Ponce De Leon Ave NE
Atlanta, GA 30308
770-999-1530
At 12:30 p.m., Skyline Park and HowStuffWorks will host an eclipse viewing party on the rooftop of Ponce City Market. The first 300 guests will get free viewing glasses, after that, glasses can be purchased for $2 while supplies last. There will be games, trivia and the bar and concessions will be open. Regular admission rates for Skyline Park apply: $10 for adults and kids over 12, $7 for kids under 12 (kids under 3 are free). For details, visit the website.