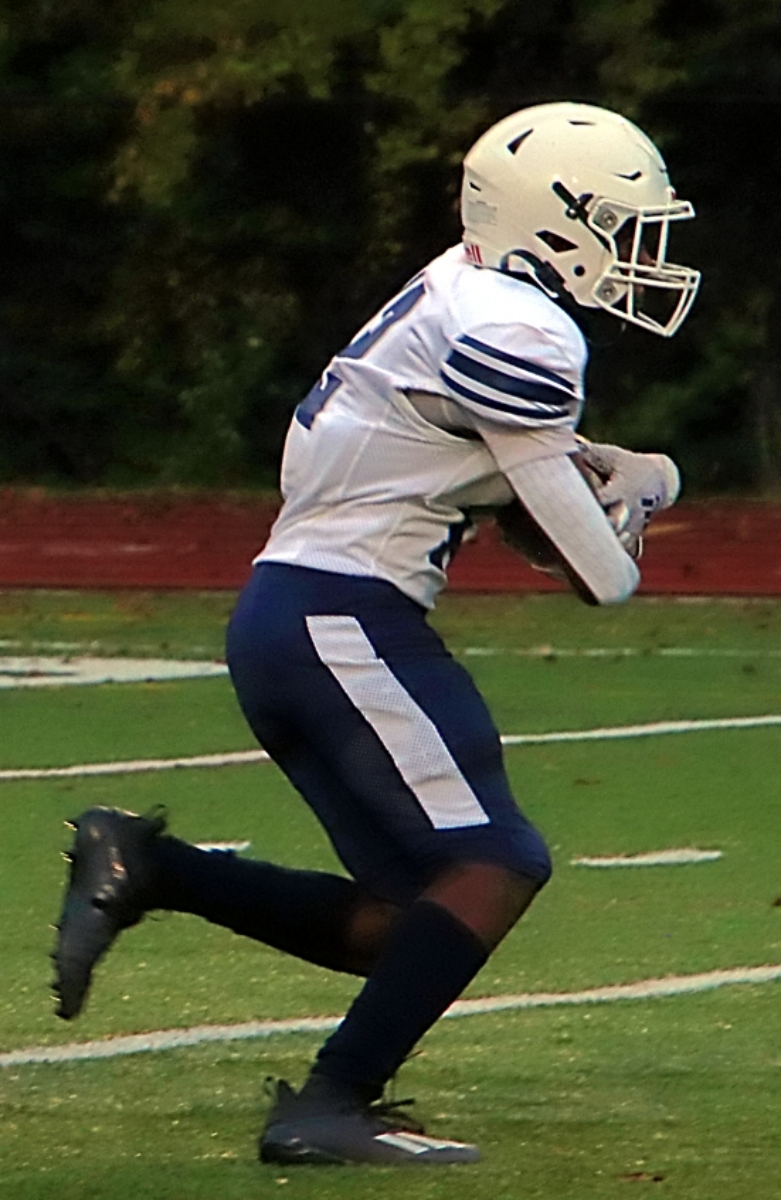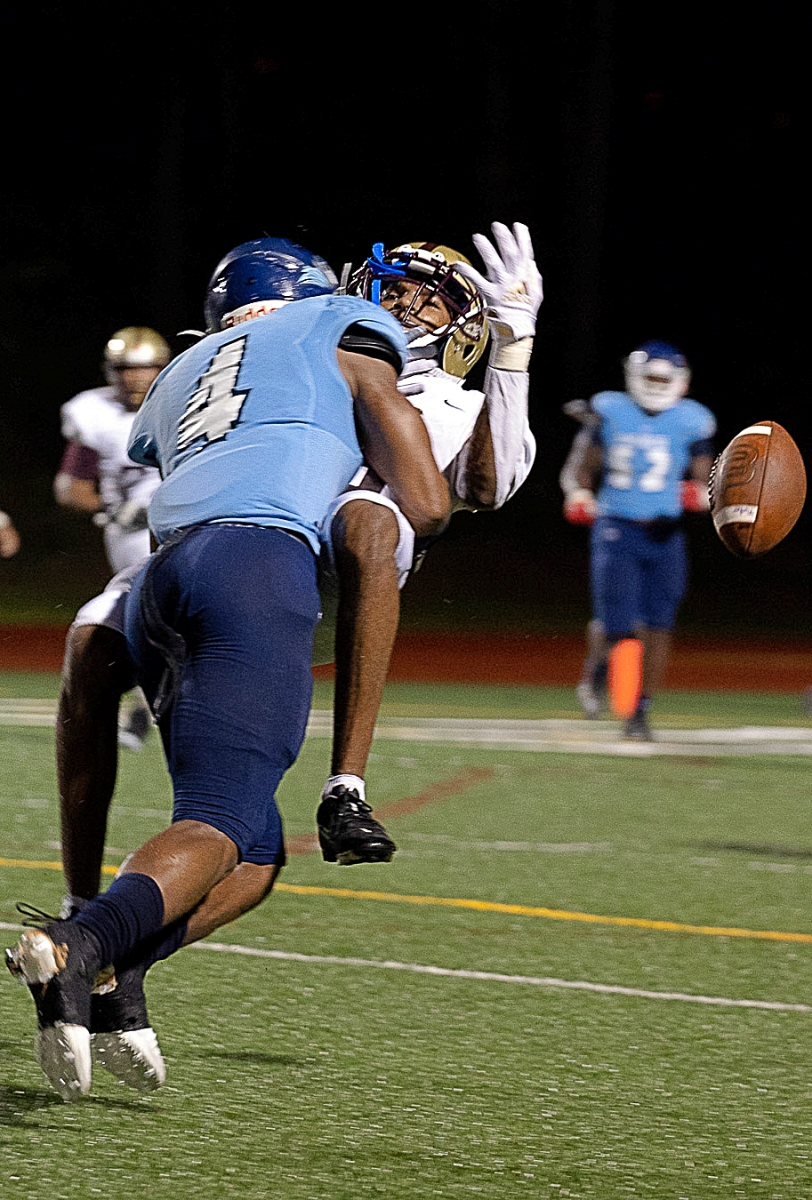 By Mark Brock
DCSD Athletics Specialist
DEKALB COUNTY, GA—Week 3 of DeKalb County School District's(DCSD)  high school football has games on tap in DeKalb stadiums including four all-DeKalb meetings.
A pair of former Region 5-5A rivals Arabia Mountain (2-0) and Columbia (0-1) meet for the ninth time in a non-region clash at Avondale Stadium on Friday at 7:30 pm.
Columbia, now in Region 6-2A, leads the all-time series 5-3 following a 12-8 victory in 2019 to break a string of three consecutive wins by the Rams which now reside in Region 6-4A. Arabia won the 2018 meeting in another defensive struggle by a score of 15-10. The Eagles won the first four meetings in the series and own a 2-1 record at Avondale.
Arabia Mountain is off to a perfect 2-0 start led by running back Solomon Rayton who has rushed for over 200 (426) yards and two touchdowns in wins over Rockdale County and Martin Luther King Jr.
Columbia is coming off a bye week after dropping a 31-0 road decision to Class 7A Camden County in the season opener two weeks ago. The Eagles are led by dual-threat quarterback Eli Morgan on offense and Preseason All-State defensive lineman Marquez Harris.
The Lithonia Bulldogs (0-2) open the week of action on Thursday hosting Dougherty County (1-0). Lithonia has lost a pair of hard-fought games to start the season to Stephenson (22-6) and South Gwinnett (20-6).
Adams Stadium is host to one of two Friday night doubleheaders with Cross Keys (0-1) hosting Bethlehem Christian (2-0) in the opener at 5:15. Redan (1-0), a 40-0 winner over Druid Hills last week, takes on host Lakeside (1-1) in the nightcap at 8:00.
Clarkston (1-0) and McNair (0-1) open the all-DeKalb doubleheader at Hallford Stadium on Friday at 5:15 pm. The Angoras are coming off a big win over Berkmar (20-19) last week that broke a 21-game losing streak. Stephenson (2-0) hosts Martin Luther King Jr. (0-2) in the nightcap at 8:00 pm. Stephenson holds a 9-4 advantage in the rivalry and won the last meeting 35-0 in 2019.
Southwest DeKalb (0-2) is looking for its first win of the season as the Panthers host the Lithia Springs Lions (0-1) in a 7:30 pm kickoff at Godfrey Stadium on Friday. The Panthers' two losses are by a combined 10 points.
Druid Hills (0-2) takes on Riverside Military (2-0) at North DeKalb Stadium with the opening kick set for 7:30 pm to round out the home schedule this week.
Four DeKalb teams go on the road this weekend including undefeated Miller Grove (2-0), Stone Mountain (2-0) and Cedar Grove (1-0) along with Towers (0-1).
The No. 1 ranked Class 3A Cedar Grove Saints travel to Class 7A No. 6 ranked Colquitt County (1-1) for a battle of ranked teams in the state of Georgia.  Cedar Grove and Colquitt are meeting for the first time in the history of the two programs. The two were scheduled to meet a year ago before getting cancelled due to the delayed start for DeKalb teams.
The Saints are coming off a season opening 52-10 win over DeKalb rival Tucker last weekend in a game that had six different Saints score. Colquitt lost a 31-24 decision to Class 6A No. 3 ranked Westlake, but had a chance to tie late when a fumble ended the Packers' drive.
Miller Grove sits at 2-0 on the season with wins over Walnut Grove and Lakeside as the Wolverines are on the road at Lakewood Stadium to take on Therrell (0-1) in a 5:30 pm game. Running back Jayden Brown has rushed for over 300 yards and four touchdowns combined in the two wins for the Wolverines.
Stone Mountain goes on the road for the second consecutive week trying to get to 3-0 for the first time since 2011 as they face Duluth in its season opener at 7:30 pm.
Towers is looking to get Coach Michael Johnson his first victory as head of the Titans as they travel to Central (1-0) of Carrollton for a 7:30 pm kickoff on Friday.
Chamblee (2-0), Dunwoody (1-1) and Tucker (0-2) are all off this week.
DCSD FOOTBALL SCHEDULE – WEEK 3
Thursday, Sept. 2
HALLFORD STADIUM
Dougherty Co. (1-0) vs. Lithonia (0-2), 7:00 pm
Friday, Sept. 3
ADAMS STADIUM
Bethlehem (2-0) vs. Cross Keys (0-1), 5:15 pm
Redan (1-0) vs. Lakeside (1-1), 8:00 pm
AVONDALE STADIUM
Arabia Mountain (2-0) vs. Columbia (0-1), 7:30 pm
"BUCK" GODFREY STADIUM
Lithia Springs (0-1) vs. SW DeKalb (0-2), 7:30 pm
HALLFORD STADIUM
Clarkston (1-0) vs. McNair (0-1), 5:15 pm
M.L. King Jr. (0-2) vs. Stephenson (2-0), 8:00 pm
NORTH DEKALB STADIUM
Riverside Military (0-0) vs. Druid Hills (0-2), 7:30 pm
AWAY GAMES
Miller Grove (2-0) vs. Therrell (0-1), Lakewood, 5:30 pm
Towers (0-1) at Central-Carrollton (1-0), 7:30 pm
Cedar Grove (1-0) at Colquitt Co. (1-1), 7:30 pm
Stone Mountain (2-0) at Duluth (0-0), 7:30 pm
Open: Chamblee (2-0), Dunwoody (1-1), Tucker (0-2)