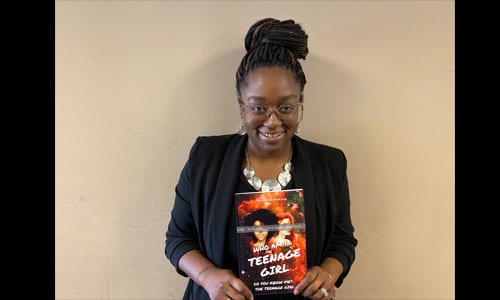 By Candice Guthrie
Nastasha Johnson, a Rockdale County middle school teacher, hopes to help parents, mentors, teachers and others better understand the issues and challenges that teen girls face as they approach puberty and young adulthood.
Johnson has published a book entitled "Who am I? The Teenage Girl," which is centered on the lives of three fictitious teen girls.
"Although the characters are fictitious, they are dealing with real-life issues," said Johnson, a minister, mentor and mother of three. "The book sheds light so that people who deal with children may be more aware, more compassionate."
Johnson said the book also is intended to provide comfort to teen girls who may be experiencing similar situations to the characters in the book.
"They may be tired a lot and unable to put their best foot forward in the classroom  because they are helping to take care of  their siblings, working and going to school. They may come across as promiscuous when, in fact, they are victims of molestation.
" I wrote the book to not only bring awareness to let people know and understand that there is more to what you see to the teenage girl, but to also let teens know they are not alone."
Johnson said writing the book has empowered her as an advocate for women and teen girls. She said she plans to host a book signing in the spring. The book also soon will be available in bookstores at Voices of Faith Ministries, which has campuses in Stone Mountain and Conyers. Bishop Gary Hawkins, Sr. is founder and pastor of Voices of Faith.
"Who am I? The Teenage Girl"is available now at www.amazon.com for $10.