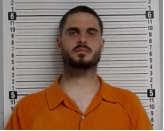 Rockdale County Sheriff's investigators have upgraded the charges against a suspect accused of brutally attacking a 58-year-old Conyers man with a hammer.
Roy B. Dees, 32, who was originally charged with Aggravated Battery, is now facing Murder charges, the Sheriff's Office said today (May 24). Dees' charges were upgraded after Jimmy Vance died on May 21 following a series of complications from the head injuries.
Dees is accused of striking Vance several times in the head with a hammer on May 16, investigators said.

Vance, a handyman, had been doing some work at a home near Broad and River streets in Conyers when Dees asked Vance for help. Vance was outside of his home  at 1588 Broad Street when he was attacked, investigators said. Witnesses said the suspect began beating Vance over the head with a hammer.  Vance's son, Joseph, told Fox5 News that his father and the suspect did not know one another.
Vance was transported to Grady Memorial Hospital with serious injuries .

Dees fled the scene but was later captured by Rockdale deputies.
This incident is still an active case, spokesman Deputy Jedidia Canty.