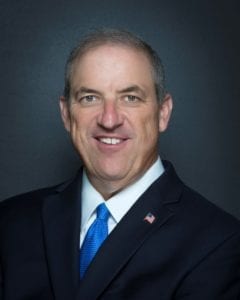 Rockdale Medical Center announced that Alan George, FACHE, has been named the hospital's new chief executive officer, effective July 11. George most recently served as CEO of Palestine Regional Medical Center (PRMC), a LifePoint Health facility in Palestine, Texas. He replaces Jerry Dooley, who has served as interim CEO of the hospital since April.
"Alan is a proven healthcare leader who has focused on quality and excellence throughout his successful career," said Robert Klein, chief operating officer of LifePoint Health's Central Group, of which RMC is a part. "His strong commitment to quality, collaboration with physicians and all hospital team members truly set him apart, and I know he will do a wonderful job leading the hospital and advancing our mission of Making Communities Healthier."
As CEO at PRMC, George drove significant hospital growth,
completed a $9.1 million hospital expansion and renovation project, and significantly increased physician and employee satisfaction. In 2013, he led the hospital to earn LifePoint's distinguished High Five Award for excellence in demonstrating the company's High Five Guiding Principles: delivering high quality patient care, supporting physicians, creating excellent workplaces for our employees, taking a leadership role in our communities, and ensuring fiscal responsibility.
"The Board would like to thank Jerry for his leadership through this transition, and we are genuinely excited to welcome Alan to the team," said Rick Simons, chair of RMC's Board of Trustees. "Alan has a deep understanding of the ever-changing healthcare environment, an impressive background, and the qualities we want in a leader."
Prior to PRMC, George served as CEO of Lakeside Hospital in Bastrop, Texas; Chestatee Regional Hospital in Dahlonega, GA; and Walton Regional Medical Center in Monroe, GA.
Before that, he held numerous leadership positions at hospitals across the southern U.S.
"I am so impressed with the people I've met at Rockdale, as well as the quality of care being delivered daily," said George. "I look forward to getting to know the employees and medical staff even better and working with them to further enhance the Rockdale community's access to high quality healthcare services, close to home."
George and his wife of 26 years, Kelly An, have three children: Aaron (22), Brandan (19) and Grace An (13).
Rockdale Medical Center is a 138-bed acute-care hospital that offers an extensive range of in-patient and out-patient services and leading-edge technology. Rockdale Medical Center is fully accredited by The Joint Commission, which evaluates hospital patient care for quality, safety and value. Rockdale Medical Center is part of LifePoint Health®, a leading hospital company focused on providing quality healthcare services close to home.