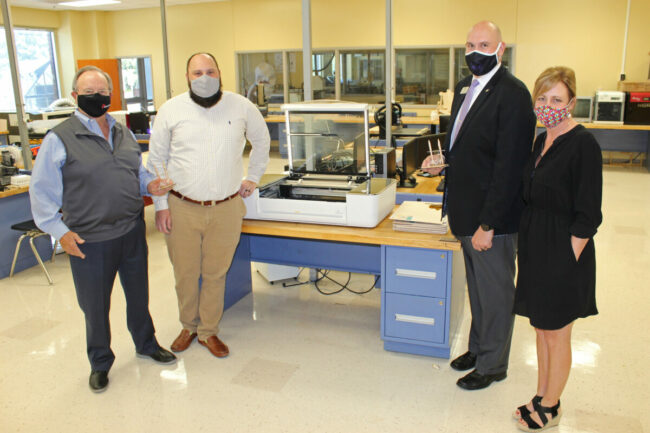 Pictured, left to right: Development Authority of Rockdale County Board Vice Chair Dr. Steve Boyle, RCA Manufacturing Instructor Jesse Smith, RCA CEO Bennett McCumber, Conyers-Rockdale Chamber of Commerce Vice President Katy Zahradnik, with the Glowforge Pro CNC laser cutter engraver purchased with the first part of the 10-year donation from the Development Authority.
CONYERS, GA– Rockdale Career Academy (RCA), a college and career academy in Rockdale County Public Schools (RCPS), was recently awarded a $50,000 grant from the Development Authority of Rockdale County. The Development Authority is giving RCA $5,000 a year for the next 10 years as part of the Authority's commitment to education and economic development in Rockdale County.
"Community partnerships such as this are essential to giving our students the necessary tools and experiences to be successful in their future endeavors," said Superintendent Terry Oatts.  "We greatly appreciate the Development Authority for recognizing the value of investing in students and education to have a viable and highly skilled workforce for years to come."
RCA CEO Bennett McCumber said, "This generous and continuing investment in our students and RCA will allow us to continue to keep RCPS and Rockdale on the cutting edge of workforce development. This is a wonderful example of the business community's commitment to RCA and to education."
Development Authority Vice Chair Dr. Steve Boyle said, "We are proud to support Rockdale Career Academy and the continued development of skilled, educated workers for Rockdale County's growing economy. Programs like RCA help ensure Rockdale remains innovative and responsive to the ever-changing needs of an increasingly complex economy."
RCA Board of Directors Chair and Conyers-Rockdale Development Council Executive Director Marty Jones had initially approached the Development Authority about a $5,000 annual commitment for five years. "They were very engaged and interested in supporting RCA," said Jones. The Development Authority decided to double the support to span over 10 years instead. "They especially wanted to step up and support those pathways that merge with our target industries – Advanced Manufacturing, Logistics and TV and Film."
RCA students in the Manufacturing career pathway are already seeing the impact of the Development Authority's support with the purchase of a Glowforge CNC laser cutter engraver, or 3D laser printer. This high tech manufacturing equipment allows students to learn how to design, program, and operate a machine for cutting and engraving and to gain real-world experience by producing products, according to RCA Manufacturing and Computer Science Instructor Jesse Smith.
Rockdale Career Academy offers more than 25 Career, Technical, and Agricultural Education (CTAE) career pathways –including Manufacturing and Film – to all RCPS high school students, along with industry certifications, Dual Enrollment college courses on campus, Work-Based Learning opportunities and more. For information about RCA, visitrca.rockdaleschools.org