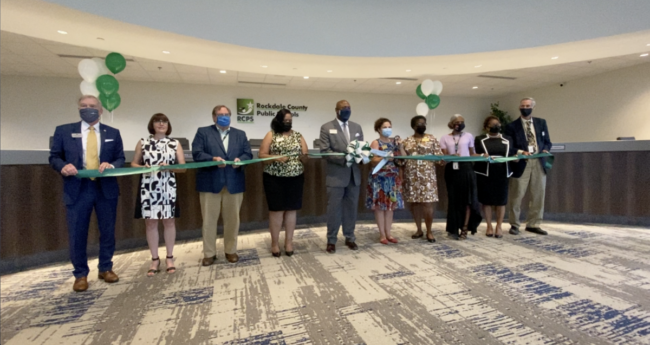 CONYERS, GA—Rockdale County Public Schools (RCPS) held a ribbon cutting ceremony today (July 20) for its new, 82,044-square-foot administration building at 960 Pine Street in Olde Town Conyers.
The campus is now home to all RCPS Central Office departments, which previously were spread across several locations in leased office space.
"I am excited to share that our former Main Street campus will become the home of a new Georgia Military College campus, giving our students and citizens of Rockdale County another option for higher education close to home," said RCPS Superintendent Terry Oatts.
RCSP's new two-story administration building boasts
with 62,708 square feet on the first floor and 19, 336 square feet on the second floor. The building is filled with natural lighting, beautiful office space, a cafeteria and an outdoor patio.
The building was designed by the architect firm of Lindsay, Pope, Brayfield and Associates, based in Lawrenceville. The estimated cost for the project was $15,975,000, RCPS officials said.
Margaret Beaty, principal in charge for Lindsay Pope Brayfield & Associates, said construction crews had to overcome several obstacles including building during a pandemic, where some got sick. She said despite those obstacles, the construction was completed on time.
"We encountered everything –stone, I mean rock, unsuitable soils, underground water. You name it we had it and we had to fight with every single item like that," said  Beaty.
Those who attended the ribbon cutting ceremony had a chance to tour the new building, where school board meetings will now be held.
Photo and Video By Glenn L. Morgan