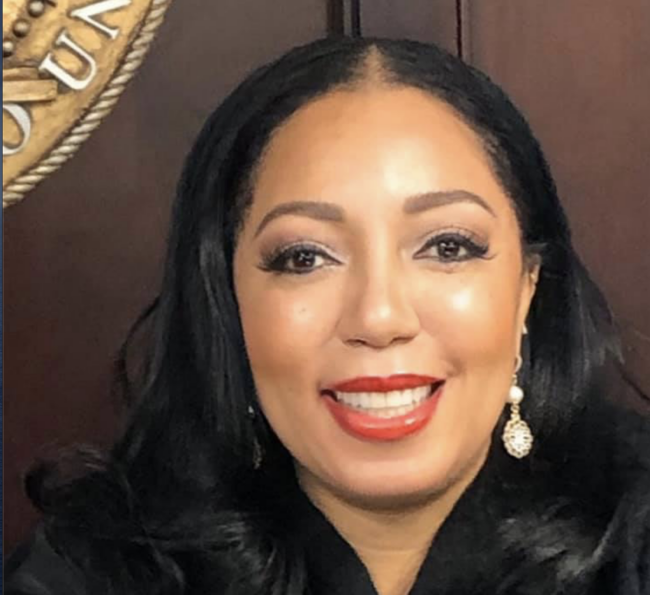 During the American Bar Association's (ABA) annual meeting in Chicago recently, Rockdale County Chief Magistrate Judge Phinia Aten rose to the top leadership position of the national legal organization's specialized judges group.
In her role as chair of the National Conference of Specialized Court Judges (NCSCJ) of the ABA's Judicial Division, Aten is responsible for galvanizing and supporting judges of limited and special jurisdiction from around the country, including international, military, municipal, magistrate, probate, juvenile and family, mental health, accountability, problem-solving and tribal courts. Aten will oversee the year-round judicial education, policymaking, professional development and community engagement opportunities hosted by the group. The NCSCJ aims to promote improved judicial administration, equal justice under the law and public confidence in the judiciary.
"Even during the first months of the coronavirus pandemic, our specialty courts, particularly those who serve our most vulnerable and high-risk populations with demanding caseloads, proved themselves to be incredibly passionate, resilient and innovative about maintaining public access to justice and continuing to serve our fellow citizens in a fair, compassionate and equitable manner," Aten stated. "I am humbled by this powerful role to further shape national judicial policy, train best court practices and assist such courts' judges throughout the United States during this historic intersection of legal and public health crises."
Aten's executive leadership team includes two other Georgia judges: DeKalb County State Court Judge Ronald Ramsey and DeKalb County Chief Magistrate Judge Berryl Anderson. Ramsey is the immediate past chair, who helped the group navigate the first array of operational and judicial challenges caused by the pandemic's onset, impact tribal courts' federal funding and host a North Georgia Judicial Summit. Anderson was elevated from secretary to vice chair.
"These judges represent the best of the best in terms of vision, knowledge, leadership and commitment to judicial administration excellence. It is my great fortune to share governance responsibilities with Judges Ramsey and Anderson during my tenure," Aten stated.
Rockdale and DeKalb Courts comprise Georgia's Fourth Judicial District.  Founded in 1878, the ABA currently serves over 300, 000 members, including 8, 348 judicial section members. In 2019, Judges Aten and Ramsey made ABA history when they were unanimously elected as vice chair and chair-elect respectively, of an all African- American committee of executive judicial officers.