Notice is given that the Rockdale Board of Elections will meet on Monday, March 15, 2021, 4:30 p.m., for the purpose of certifying the 90TH House District Special Democratic Primary Election Runoff, which was  held March 9, 2021.  This election involved only the Lorraine Precinct in Rockdale County and portions of Henry and DeKalb counties.
The agenda and unofficial and complete election results are attached.   
Meeting is scheduled as follows:
WHEN:            Monday, March 15, 2021
TIME:               4:30 p.m.
WHERE:          In-Person: Rockdale Board of Elections Office
1261 Commercial Drive, SW, Suite B
Conyers, GA 30094
(770) 278-7333
MASK REQUIRED
Online Via Zoom:  Join Zoom Meeting
https://us02web.zoom.us/j/7049887949
Meeting ID: 704 988 7949
One tap mobile
+13126266799,,7049887949# US (Chicago)
+16465588656,,7049887949# US (New York)
 The agenda is below: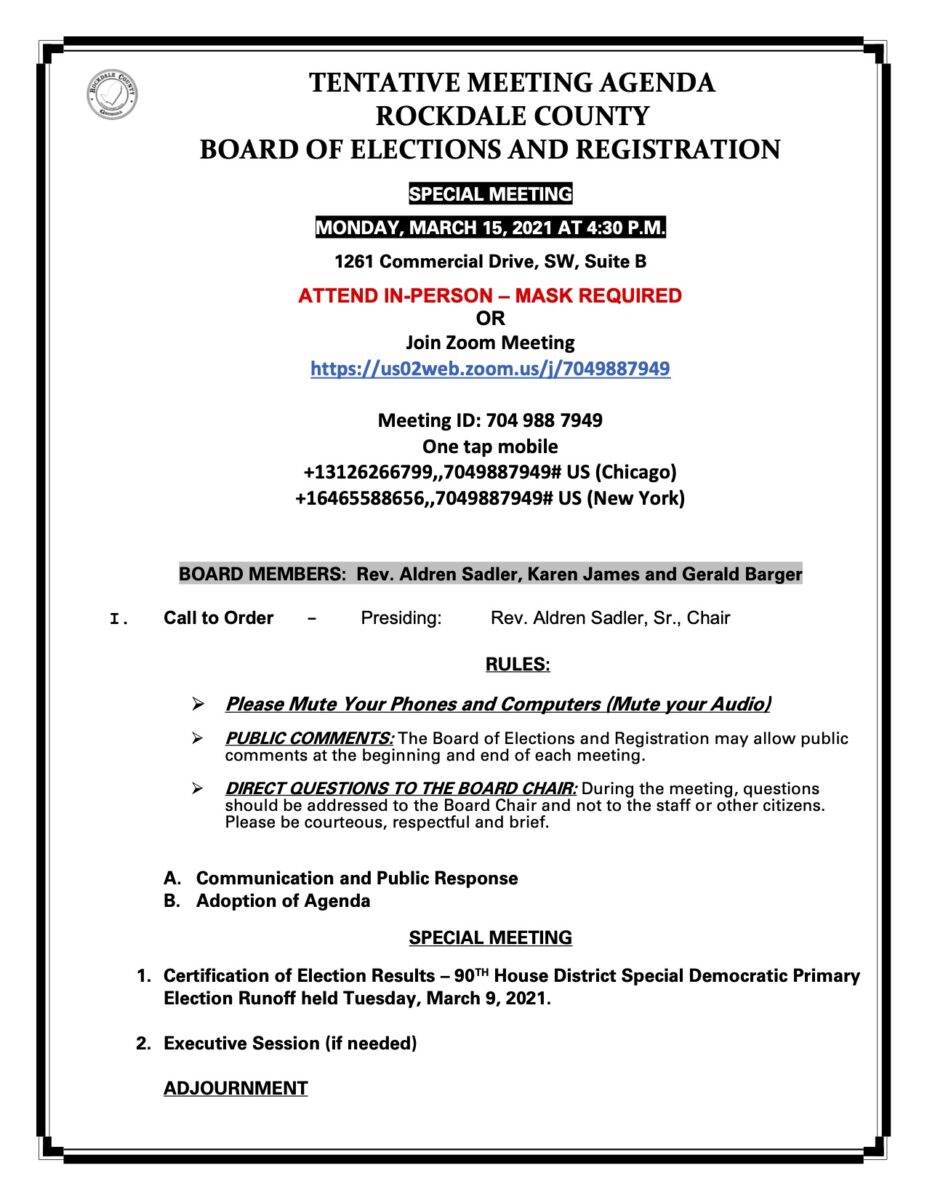 DeKalb County Board of Elections to hold special called meeting March 15  
The DeKalb County Board of Registration and Elections will hold a special called meeting on Monday, March 15, at 4:30 p.m. for the purpose of considering certification of the results of the runoff election held on March 9, 2021.
This meeting will be conducted via teleconference (Zoom). Simultaneous public access to the meeting will be available via livestream on DCTV's UStream channel https://video.ibm.com/channel/dctv-channel-23.
To make a comment, join via Zoom at https://dekalbcountyga.zoom.us/j/97184078303  or by phone at 1-888-270-9936 and use conference code 171493.