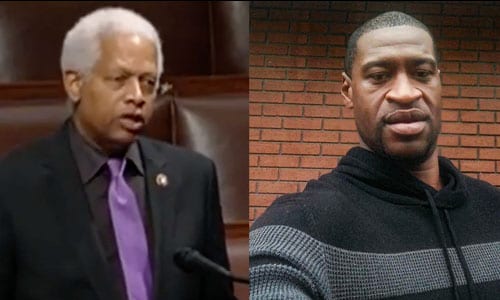 Congressman Hank Johnson and George Floyd
WASHINGTON, D.C. – Today, Congressman Hank Johnson (GA-04) delivered the following 1-minute House floor speech to bring awareness of racial disparities concerning COVID-19 and police violence against unarmed African Americans in light of the death of George Floyd at the hands of police in Minneapolis, MN this week.
Floyd's death sparked rioting in Minneapolis on Tuesday and Wednesday following the May 25 incident in which a white officer kneeled for nearly eight minutes on the back of Floyd's neck, while other officers stood by and did nothing to stop it. A bystander video-recorded the incident showing Floyd on his stomach, handcuffed and begging for his life, telling the officers "I can't breathe."
To watch, click HERE.
Madame Speaker:
"I Can't Breathe" is a poem I delivered on this floor six years ago when Eric Garner got choked out by the police.
Today, I'm here for George Floyd another Black man who died face down on the hot pavement — suffocated to death by a police officer as he begged for his life — for 8 minutes!
Black folks in America in 2020 are caught between being suffocated to death in shockingly disproportionate numbers by the COVID-19 coronavirus or being choked to death by rogue, uncaring and unconcerned police officers. Black folks in America are caught up in three pandemics when you add the reality that our businesses are getting choked out of PPP (Paycheck Protection Program).
Black people bear an unparalleled burden in this country!
When just 12 percent of Black & Latino business owners who applied for PPP report receiving what they asked for, something is wrong.
When we make up 13 percent of the population but 60 percent of the COVID deaths, something is wrong.
When we have armed vigilantes and rogue police killing us on the streets, something is terribly wrong.
The America Dream should not be a nightmare for any of her people. It is time to bring an end to open season on Black people in America. We can't breathe.
I yield."