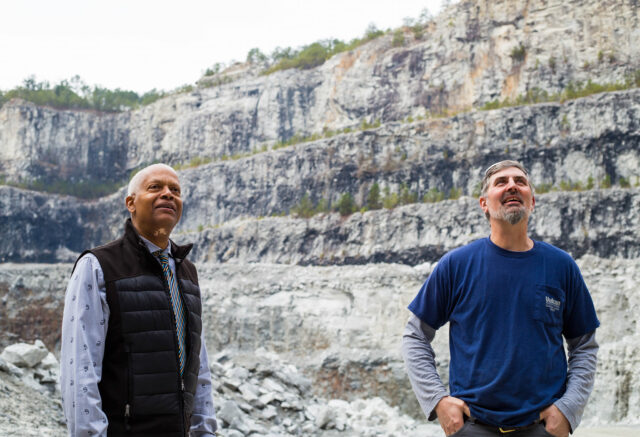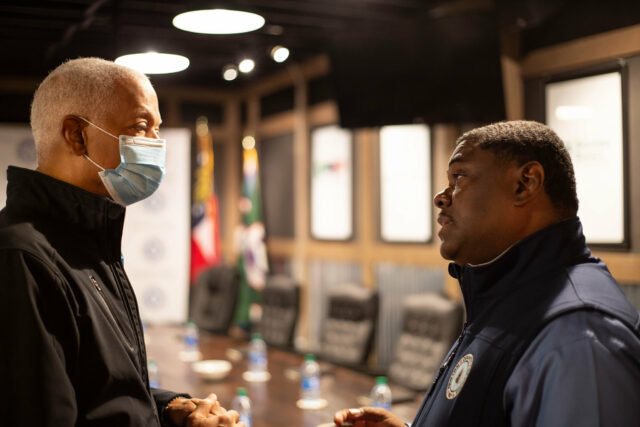 STONECREST, GA—
Rep. Hank Johnson (GA-04) led a two-day tour across Georgia's Fourth Congressional District on Dec. 16 and 17 to tout the passing of the Infrastructure Investment and Jobs Act, also known as the Bipartisan Infrastructure law.
"This new infrastructure law will create millions of good-paying union jobs with a once-in-a-century investment in rebuilding infrastructure in Georgia: from roads and bridges, transit and rail, to wastewater systems and high-speed broadband," said Johnson, a senior member of the House Transportation and Infrastructure Committee. "This new law marks a generational change and renews investments in a cleaner, more sustainable future for America."
The two-day tour started at a Vulcan Materials Company facility in Lithonia on Dec. 16 and concluded on Dec.17 at several infrastructure projects throughout Newton County such as the Dried Indian Creek bridge, which hasn't had any significant repairs since 1959.
"The 12,000 employees that work for Vulcan across the country appreciate Congress passing the Bipartisan Infrastructure Bill. The bill is all about transportation and infrastructure, and of course what we do is facilitate that by making the primary ingredients that go into construction, not only for just transportation in roads and bridges, but also for infrastructure for homes, churches, schools and libraries," said Jimmy Fleming, Vulcan Vice President of Permitting and External Relations. "Congressman Johnson has his fingerprints all over this bill and we appreciate his work on this bill and his work on the T&I committee."
Newton County Chairman Marcello Banes Newton is thankful to have Congressman Johnson working for them and making this bill happen for Newton and the State of Georgia.
"I am grateful for the time Congressman Johnson took to ride around Newton County and see the need for improvements to our transportation infrastructure here at the local level," said Chairman Banes. "This means a lot to us and we are excited about the new law and the opportunities to receive some of the federal funds and have some of them allocated to Newton County."
The Bipartisan Infrastructure Law delivers big for Georgia: 
Georgia can expect to receive approximately $9.2 billion over five years in Federal highway formula funding for highways and bridges.
The Bipartisan Infrastructure Law invests $13 billion directly into improving roadway safety.
The law means $12 billion for partnership grants for intercity rail service, including high-speed rail. Georgia will also be eligible to compete for $5 billion for rail improvement and safety grants and $3 billion for grade crossing safety improvements.
Airports in Georgia would receive approximately $619 million for infrastructure development over five years.
State Sen. Tonya Anderson, who represents Newton County in the state legislature, said the entire county of Newton is very excited about the new federal funding that will come down to the state of Georgia.
"When you think about better roads, better drains, anyone who works in local government should consider this an early Christmas gift, a Christmas miracle," said Anderson, who also represents portions of DeKalb and Rockdale, as well as Newton County. "This bill proves that bipartisan work is critical for historic legislation such as this to come to fruition and I am really looking forward to the improvements for our highways, roads, bridges and most of all the broadband improvements. Broadband is critical for our schools, our businesses and economic development as a whole."
To view photo albums of both visits, go to Congressman Hank Johnson's Facebook page: https://www.facebook.com/RepHankJohnson/