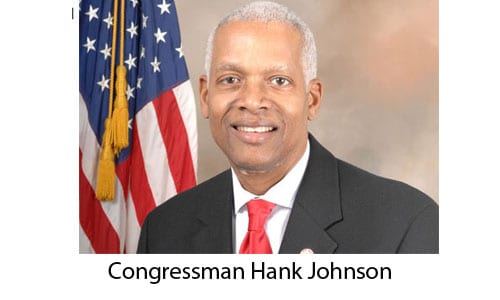 By Congressman Hank Johnson, Georgia District 4
It's simple, the people of South DeKalb are no less deserving of high-quality public transportation than anyone else.
And despite public commitments to expand MARTA's heavy rail system into South DeKalb, there has been no progress. It is time to recommit ourselves to expanding MARTA's heavy rail transit line to serve our community. This is the only sensible option to congested roads, pollution that disproportionately impacts Black and low-income communities, and to reducing the greenhouse gas emissions that are warming our planet and dangerously changing our climate. Heavy rail transit is also necessary to ensure more people, especially low-income people, have access to jobs and essential services. Driving is expensive. It requires fuel, maintenance, and insurance, in addition to the steep cost of the vehicle itself. Too many people in our community cannot afford to drive, and many more are unable to drive due to disability or other reasons. Without a heavy rail extension, these people will be effectively locked out of economic opportunity
We cannot let that happen.
Our future is on the line, and I urge us all to have vision and think boldly. Heavy rail transit in South DeKalb will only happen if the people in this virtual room choose to make it happen. We know the path forward will not be easy. There will be setbacks. Despite unprecedented opportunities for federal funding that I will discuss in a moment, there will be costs. Yet we should not be deterred. With vision and determination, we can overcome any obstacle and deliver transformative infrastructure for our region.
Now I would like to give you an update from D.C. The Biden Administration has shifted our nation's investment priorities from an over reliance on roads and highways, to cleaner, safer, and more equitable public transit, biking, walking, and passenger rail. The President and the Department of Transportation have committed to using discretionary authority to direct federal funding to cleaner, more equitable choices such as public transit. This includes increasing the federal share of funding for public transit projects which will reduce the burden on local communities like DeKalb.
Congress, meanwhile, is working to pass transformational legislation to further point the federal government towards investing in public transit. Should this legislation become law communities like South DeKalb could access unprecedented funding and support for public transit from the federal government. Together, the $1 trillion Bipartisan Infrastructure Bill and the Build Back Better Act will provide billions of new dollars for public transit. This includes funding explicitly for the construction of new public transit, such as the $15 billion for Capital Investment Grants included in the Bipartisan Infrastructure bill.
These two pieces of legislation include numerous other funding sources that could support investments in new public transit. The bipartisan infrastructure bill includes new programs such as a $6.4 billion carbon reduction program, a $250 million congestion relief program, and a $7.5 billion local and regional project assistance program. The new carbon reduction program alone will provide Georgia with over $210 million between FY22 and FY26. Meanwhile, the Build Back Better Act includes new programs such as $10 billion for public transit access to affordable housing and $4 billion in Community Climate Incentive grants.
Finally, billions of dollars in federal highway funds are in fact eligible for transit capital investments. All it takes is the choice by state leaders to use these dollars for transit. In fiscal year 2020, according to the Federal Highway Administration, the State of Georgia received $359 million in funding through the Surface Transportation Block Grant program. While technically a highway program, states can use these dollars for a broad array of projects including virtually any public transit capital project. This program will receive $72 billion under the bipartisan infrastructure bill, a $14 billion increase over current law. This means millions in additional dollars for Georgia DOT, in addition to the over $300 million it already receives, every year that could be used for transit. GDOT is more than a department of roads and highways, in fact it is the Department of Transportation. With the political will, these dollars could be available to support heavy rail expansion in South DeKalb.
These are just some of the programs and funding sources that are or will be available from the federal government. I am proud to be a senior member of the House Transportation and Infrastructure Committee and my office stands ready to support the County, MARTA, and all regional entities in an effort to secure federal funds for heavy rail transit in South DeKalb. If a federal rule or law stands in your way, let my office know so we can work to change it. If you are applying for funding, let my office know so we can support your application. We are here to help; however, my office can only help if we choose to act.
MARTA has begun an effort to develop a new locally preferred alternative. It is my sincere hope that MARTA will find heavy rail transit to be the preferred choice. To help ensure this outcome, I urge DeKalb County to work with MARTA to update its transit master plan to make clear that DeKalb County is willing to invest in heavy rail. Further, I encourage the County to include in an updated master plan a fulsome discussion of the suite of federal, state, and local sources available, including low interest federal loans and innovative local funding sources such as tax allocation districts and value capture. A funding package that includes a wide variety of sources may reduce the need for additional local revenue.
These are the first of many steps in what will be a long walk, not a sprint. It will be necessary to work with the ATL and the ARC and to include this project in the Atlanta Regional Transit Plan and the Transportation Investment Plan. There may be a need to update zoning codes to support the transit-oriented development necessary at or near stations. The long walk will be worth it because, in the end, we will have a heavy rail line which will spur economic development and unlock opportunities for countless South DeKalb residents, while reducing congestion and emissions. The benefits far outweigh any costs.
We can do this, but only if we choose.