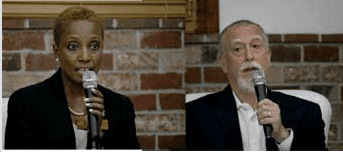 Tammy Grimes and Dave Marcus will face one another in the Stonecrest City Council District 5 special election runoff on Dec. 3, elections officials have confirmed.
Officials certified the Nov. 5 early results on Nov.  15, making it official that Grimes and Marcus will challenge one another for the seat. The special election is being held to fill the unexpired term of Diane Adoma, who came in behind Charles Hill in the three-way race with incumbent Jason Lary, who won another term as the city's mayor.
Grimes' bid will mark her second challenge for the District 5 council seat. In 2017, Grimes received 45.6 percent of the votes in a runoff with Adoma, who received 54.4 percent of the vote.
Barbara Hall, who placed third in the recent six-way race with Grimes and Marcus, said she was satisfied with the certified results and thanked those who supported her.
Grimes, an instructional support specialist for the DeKalb County School District, received one additional vote after the results were certified: 699 votes (45.42 percent). Marcus, a retired strategic planner and financial analyst, earned 256 votes (16.63 percent), and Hall, an elder at New Birth Missionary Baptist Church and former law enforcement officer, received 250votes (16.24 percent).
DeKalb elections officials are not expecting a big turnout for the run-off, pointing to the 2017 runoff, which generated an 18.3 percent voter turnout.  Of the district's 6,665 registered active voters, only 1,219 voters cast ballots for that election.
Early voting will be held Nov. 21-27. District 5 voters may cast ballots at the DeKalb County Voter Registration & Elections Office, 4380 Memorial Drive, Decatur, or the Stonecrest Library, 2123 Klondike Road, Stonecrest. Both locations will be open on Nov. 21, noon to 4:30 p.m., and Nov. 22-27, from 8 a.m. to 4:30 p.m.
There will be no voting on Saturday, Nov. 23 or Sunday, Nov. 24.
Voters must go to their assigned polling precinct on Election Day, Dec. 3.