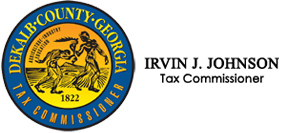 The DeKalb County Tax Commissioner's Office is currently closed to customers and not accepting calls until further notice, due to the coronavirus.
DeKalb County Tax Commissioner's Office continues to serve customers through E-services (eservices.drives.ga.gov), email and other electronic offerings.
Motor Vehicle and Property Tax documents can be submitted and processed via mail, email and placed in drop boxes at the 4380 Memorial Drive and 1358 Dresden Drive locations.
Taxpayers should also visit www.DeKalbTax.org for information on how to submit the necessary documents for processing. Click the red "Temporary Drop-Off Services" tab and then select your area of interest.
Motor vehicle renewals can be also completed online and at five Kroger kiosks located around DeKalb and at other participating locations around the state.
Property tax exemption applications can be submitted online at www.DeKalbTax.org or through the drop box.
For more information, visit www.DeKalbTax.org or email property tax questions to proptax@dekalbcountyga.gov and motor vehicle related questions to tag@dekalbcountyga.gov.
Questions emailed to the Tax Commissioner's Office will be answered as quickly as possible.