STONECREST—Senior Pastor Jamal Bryant repurposed New Birth's planned drive-in worship service to a peaceful demonstration for justice on Sunday, May 31.
Bryant decided to hold the demonstration on Pentecost Sunday following the murders of Ahmaud Arbery and George Floyd as well as demonstrations across the country were held by angry protestors. Rioting ended in damaged property and disorder in Atlanta over the weekend.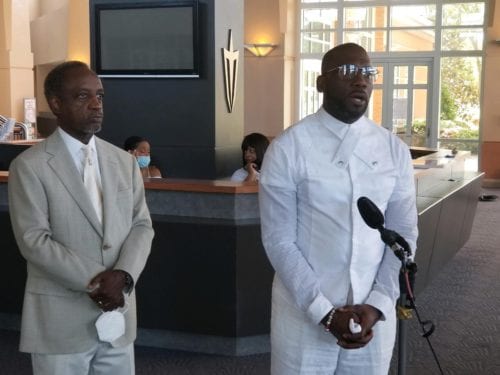 Pictured: (L-R) CEO Micheal Thurmond and Senior Pastor Jamal Bryant
"What we are seeing from some is the unbridled rage and disappointment from a system that has repeatedly failed to protect them and unjust treatment at the hands of law enforcement," said Bryant in response to demonstration that evolved into chaos along the streets of Atlanta.  "Atlanta is the headquarters of the Civil Rights Movement and we wanted to demonstrate that model during our Sunday parking lot protest and worship service."
Pentecost Sunday marked New Birth's first on-campus service in months since the COVID-19 pandemic caused houses of faith to shift from typical gatherings to reduce the spread of the deadly virus.
The drive-in protest featured projection screens and speakers throughout the church's parking lot to enable attendees to see and hear the service from their vehicles.