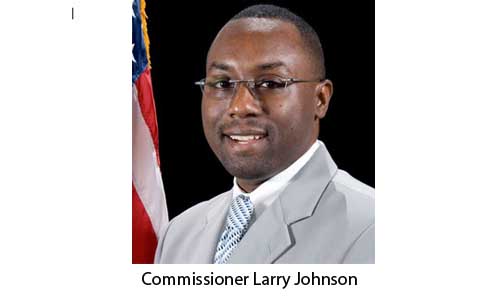 Pointing to many ways it would help their local priorities, county leaders from across the country pushed for the House of Representatives to pass the Infrastructure Investment and Jobs Act (IIJA), which the Senate passed on a bipartisan vote Aug. 10.
The legislation would provide $973 billion over five years from FY 2022 – FY 2026, including $550 billion in new investments for all modes of transportation, water, power and energy, environmental remediation, public lands, broadband and resilience.
Learn More

Legislative analysis for counties: The Infrastructure Investments and Jobs Act 
"The Infrastructure Investment and Jobs Act will support counties by making investments that will help us deliver stronger more efficient and more accessible transportation and infrastructure for our citizens," said NACo President Larry Johnson, a DeKalb County, GA Commissioner during an Aug. 13 virtual press conference.
"Counties are major owners and operators of the nation's transportation infrastructure systems," he said. "We own and operate 44 percent of the nation's roads, more than any other level of government. We own four of out every 10 bridges, many of them are off the federal highway system. We play a key role in supporting a third of the nation's public airports and nearly 80 of the public transportation systems.
"Counties annually invest over $130 billion in construction of infrastructure and maintaining public works. Our local responsibilities range far beyond roads, bridges, airports and waterways, as highlighted by the pandemic, county residents rely on us for high-speed broadband."
Fulton County, GA Commissioner Liz Hausmann, chairwoman of NACo's Transportation Steering Committee, said the funding and the certainty counties would have to pursue transportation and infrastructure projects with the surface transportation reauthorization would be significant.
"As county officials, safety remains at the forefront of decision making, and when funding constraints force local governments to decide which projects should be carried out, our residents' safety is leveraged," she said. "New programs within IIJA help counties address our unique safety concerns, including 49 percent of fatalities that occur on our rural roads each year."
She noted that more than $1 billion annually would go bridges that are not part of the federal highway system and mostly maintained by counties, and the codification of the Rebuilding American Infrastructure with Sustainability and Equity (RAISE) grant program would allow a lot of flexibility for county projects.
Hausmann pointed out that Fulton County released a $1.3 billion transit master expansion plan, and the 13 Atlanta metro area counties had a $27 billion plan.
"Obviously we can't accomplish that with local dollars alone, so the $39 billion in IIJA is very impactful to metro Atlanta counties."
But infrastructure includes more than roads and bridges, and Coos County, Ore. Commissioner Melissa Cribbins, chairwoman of NACo's Energy, Environment and Land Use Steering Committee said the investments the bill offered were coming at the right time.
"It provides critical funding to counties at a time when we need it most to upgrade our energy grid and water infrastructure," she said. "The bill also provides new opportunities to be better engaged and solution-oriented within this portfolio."
Crucial programs include the Department of Energy's weatherization assistance program, a carbon-utilization grant program for which counties would be directly eligible, new carbon dioxide transportation infrastructure finance and innovation program, a revolving loan fund for transmission line replacement.
This bill would also fund brownfields restoration projects, clean water programs, lead service line replacement and PFAS remediation.
"Infrastructure has been underfunded for years, our grandparents made the important investments that we need to continue to make to protect our shared infrastructure," she said. "In my rural area, we've struggled for years to upgrade water treatment facilities in our forest communities. I have seen the hard choices that residents have to make about improving their drinking water, because the cost of the needed upgrades often drive the drinking water bills up so high that our residents struggle to pay their water bills. This act would remove the false choice between drinking water and economic survival.
The IIJA prioritizes broadband as a core infrastructure, and NACo Telecommunications and Technology Steering Committee Chairwoman Tarryl Clark, a Stearns County, Minn. Commissioner said that has become clear during the pandemic, when high speed internet became a premium for parents working at home while students attended classes remotely. In addition, residents relied on broadband to access telemedicine, combat social isolation and counties adapted justice systems to operate remotely.
The infrastructure package allocates $65 billion for broadband deployment, though mostly to states, but establishes several competitive grant programs for which counties could apply. Those could include middle mile broadband expansion programs, wholesale service at reasonable rates on a carrier-neutral basis or connections to anchor community institutions.
"County officials play a crucial role as policy makers, funders, data aggregators, conveners and partners in pursuing sustainable solutions to broadband access, affordability and reliability," she said. "We are committed to eliminating the nation's digital divide. The IIJA provides the resources necessary to help ensure that we can provide universal, reliable and affordable broadband access to all counties.
"It will enhance our country's and our communities' competitiveness and vitality," she said.
The IIJA also includes a three-year extension of the Secure Rural Schools (SRS) revenue sharing program for public lands counties.
NACo Public Lands Steering Committee Chairman Joel Bousman called that provision, "A key win for Western counties," though more than 700 counties across the country receive payments from the program.
Those payments fund an array of county services, including education, law enforcement and search and rescue operations.
"These services benefit both residents and visitors to our federal public lands," Bousman said.
He noted that Sublette County, Wyoming, where he is a commissioner, uses SRS money to contract with a search and rescue helicopter service for the Bridger- Teton National Forest
"We have saved numerous lives In our county by having this service available," Bousman said.
For the first time since 2013, counties will be able to choose, for FY 2022 and FY 2023, between Secure Rural Schools payments or timber receipts, the revenue for which the program was designed to compensate.
"Some counties have found they would receive more from timber harvest receipts than they would from SRS, so they will be able to decide which funding stream to receive."
The bill would also create a new Resource Advisory Committee that would allow the directors of the U.S. Forest Service or Bureau of Land Management to present their recommended appointments to the secretaries of Agriculture and the Interior, respectively. That would expand on a similar pilot program in Montana and Arizona.
"This has cut down on waiting periods from two years to a few weeks, a huge improvement," Bousman said.