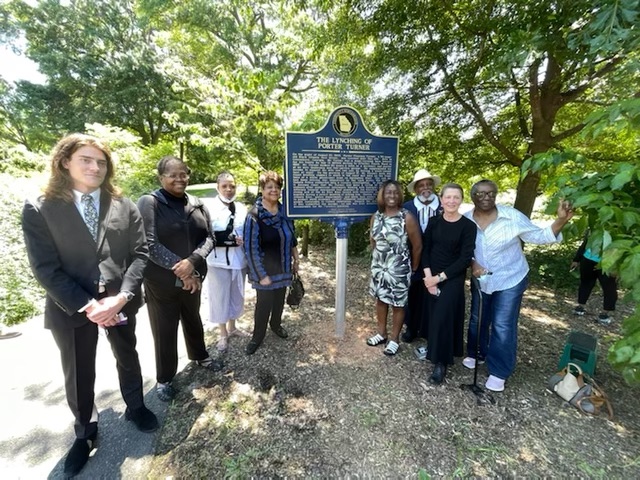 DECATUR, GA–The NAACP DeKalb County branch will host a virtual closing ceremony on Sept. 30, 6 p.m., for its Remembrance Project honoring the memory of black victims who were lynched in DeKalb County.
Over the past two years, the NAACP DeKalb Remembrance Project, in collaboration with the Equal Justice Initiative (EJI) has installed markers at three locations  to remember the known and unknown victims of lynchings that have been documented in DeKalb. The sites where the historic markers have been placed include:
DeKalb County Courthouse, 556 N. McDonough St., in downtown Decatur
Kelly Park,  6886 Main St., Lithonia
Oak Grove Park, Ponce de LeonAve., in North Druid Hills area
The closing ceremony will be an official dedication of the markers.
Between 1877 and 1950, more than 4,000 African Americans were lynched across 20 states. NAACP DeKalb joined ithe Remembrance Project effort to shed light on the dark history, by being the first organization in metro Atlanta to officially partner with EJI.
"These people were denied justice, they were denied due process, so these markers are placed in areas where people can stop, read the history and reflect," Remembrance Project Chair, Attorney D. E. Smith said.
DeKalb NAACP President Teresa Hardy states, "This may be the closing of one project, but our fight continues. While we have been able to start the conversations around the history of terror lynchings in Georgia, the future of our civil rights and voter rights are still at stake. We must continue to have the tough conversations and fight for justice."
The virtual event is free, but those who plan to join in must register at www.naacpdekalb.org for access.  For more information, contact Attorney D. E. Smith, at 404- 241-8006 or info@naacpdekalb.org.