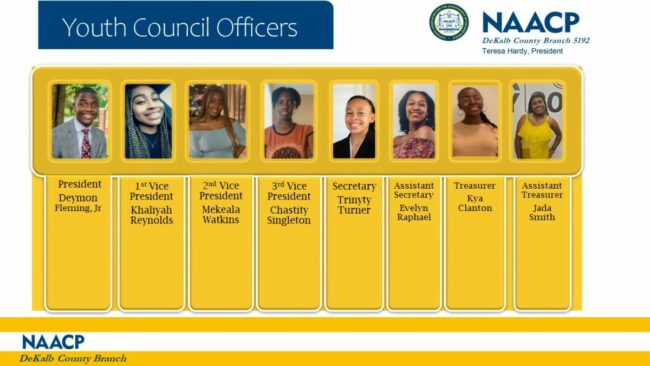 DECATUR, GA—The National Association for the Advancement of Colored People (NAACP) DeKalb County Branch announces the names of its newly-elected officers for the 2021-2022 Youth Council.
The new youth officers are: Deymon Fleming, Jr., president; Khaliyah Reynolds, 1st vice president; Mekeala Watkins, 2nd vice president; Chastity Singleton, 3rd vice president; Trinyty Turner, secretary; Evelyn Raphael, assistant secretary; Kya Clanton, treasurer; and Jada Smith, assistant treasurer.
The Youth Council meets on the third Saturday of each month at 2 p.m. via Zoom. The primary function of the unit is to focus on issues facing youths throughout the nation on local, state, and federal levels, specifically emphasizing social justice, activism, voting rights and education. Students ages 14-24 are eligible to would like to join the Youth Council should visit www.naacpDeKalb.org.
For more information contact Youth Council President Deymon Fleming, Jr. at (404) 241-8006 or info@naacpdekalb.org. To attend monthly meetings, join Zoom and use Meeting ID: 835 2586 5005