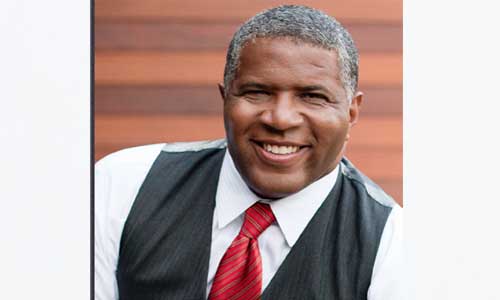 Smith's gift will fund scholarships, new park and outdoor study area
Morehouse College has received a $1.5 million donation from Robert F. Smith, a philanthropist and the Founder, Chairman and CEO of Vista Equity Partners. College officials say the donation will fund endowed scholarships and the design and creation of a park that will give students a new outdoor study area.
The gift to the Atlanta college will launch the creation of the Robert Frederick Smith Scholars Program, which will be supported by $1 million of the donation.
Smith founded Vista Equity Partners in 2000. Vista, a global leader in software and technology investments, currently manages equity capital commitments of more than $46 billion and oversees a portfolio of more than 50 software companies, employing 60,000 people worldwide.
"Robert F. Smith's donation of $1 million for student scholarships will have a profound impact on the lives of deserving young men who have the desire to attend Morehouse College, but lack the resources," said Morehouse President David A. Thomas. "We appreciate his generosity and his investment in a generation of students who will follow in his footsteps as global leaders and entrepreneurs."
In 2017, Forbes magazine named Smith as one of the 100 greatest living business minds for his visionary leadership. He is equally celebrated for his record as a philanthropist.  Smith was the first African American business leader to sign "The Giving Pledge," an initiative created by Bill and Melinda Gates and Warren Buffett in which wealthy individuals and families pledge to give more than half of their wealth to causes such as poverty alleviation, disaster relief, and global health and education.
Smith is the largest private donor to the National Museum of African American History and Culture.
Recently, Smith also donated $560,000 to purchase land for and build a park in Southwest Atlanta. The new park will be adjacent to the Ray Charles Performing Arts Center on the campus of Morehouse College. The College will engage students and alumni in the design and naming of the park.
Smith is a 2018 recipient of Morehouse College's most prestigious award for community service. He received a Candle Award in Business and Philanthropy at the College's 2018 "A Candle in the Dark" Gala, which benefits student scholarships.
Smith is chairman of the Carnegie Hall Board of Trustees, and chairman of the board of Robert F. Kennedy Human Rights. He is also the founding director and president of the Fund II Foundation, which is dedicated to safeguarding human rights, the environment, and sustaining critical American values.