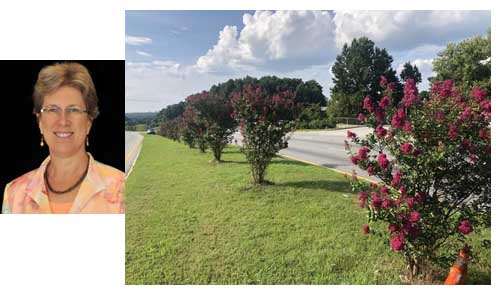 DeKalb County District 6 Commissioner Kathie Gannon says the Metro South CID is continuing to partner with DeKalb County government to file court cases to fight blight.
Gannon applauded the CID for its commitment to wipe out eyesores in the district during a recent meeting where she addressed the Conley Area Business Association.
The Metro South CID is monitoring 22 properties cited for code violations.  The trouble spots include 11 parcels in Conley and several other parcels in the Moreland Avenue/Fleetwood Drive area.
In addition to fighting blight, the CID is working with Keep DeKalb Beautiful to clean up and enhance the Moreland Avenue median. Keep DeKalb and Beautiful helped fund the removal and cleanup of dead trees and bushes along the median. Although the enhancements are not fully complete, the CID is working to get the job completed, said Emory Morsberger, who heads the CID. Morsberger is dedicated to cleaning up DeKalb to attract more businesses to the county.
As part of its cleanup push, the CID also recently added signage to display roadside cleanups that are underway in the district and Adopt-A-Road signs to encourage businesses and community groups to help enhance the area.
DeKalb County CEO Michael Thurmond has vowed to wipe out blight throughout the county. County officials have approved the first-ever comprehensive study of blighted properties. Currently, 139 parcels are slated for review by the Demolition and Abatement Task Force. Since 2017, DeKalb has demolished 292 vacant, abandoned or poorly-maintained properties, officials said.
In other news, the Metro South CID has been approved for a $200,000 grant from the Atlanta Regional Commission to conduct a freight study. The study will research traffic patterns and movements of freight coming in and out of the district. The Community Improvement District is in the process of raising matching funds to hire a consultant to supervise the study and present its findings.