ATLANTA—House Speaker David Ralston recently named Rhonda Briggins, MARTA's senior director of external affairs, to the House Commission on Transit Governance and Funding.
House Resolution 848, passed during this year's session of the Georgia General Assembly, established a commission to study the conditions, needs, issues and problems regarding Georgia transit. The council will provide transportation recommendations aimed at benefiting Georgia's local and regional economy. Transit studies, generated from the commission's activities, will also review potential funding mechanisms.
'This is an amazing opportunity for not only MARTA but for transit statewide as Georgia takes a hard look at funding and governance," said Briggins. "We are especially grateful to Speaker Ralston for his leadership and vision to move Georgia in the right direction."
The council will consist of six members of the House of Representatives, four representatives of transit systems or counties, four residents of the state of Georgia and ex-officio appointees. MARTA GM/CEO Keith T. Parker will serve as an ex-officio member with leaders from the Georgia Department of Transportation (GDOT) and the Georgia Regional Transportation Authority (GRTA).
"Transit is becoming more and more important to Georgia's future," Ralston said in a statement. "From congestion relief to economic development, a robust transit network across our state will have long-term benefits for our citizens. Situations like the recent I-85 rebuild have clearly demonstrated the importance of transit to our state and its economy. The House is proud to lead on this initiative to develop actionable, meaningful solutions."
Briggins, who is a DeKalb County resident, manages MARTA's government affairs and community relations activities regarding matters on federal, state and local levels.
Additionally, Briggins serves as the president for both the Georgia Transit Association and the Conference of Minority Transportation Officials (COMTO).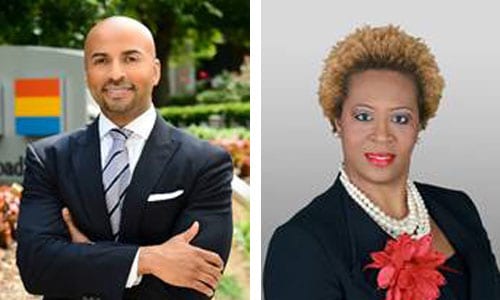 Rhonda Briggins (left) and MARTA GM/CEO Keith T. Parker (right).