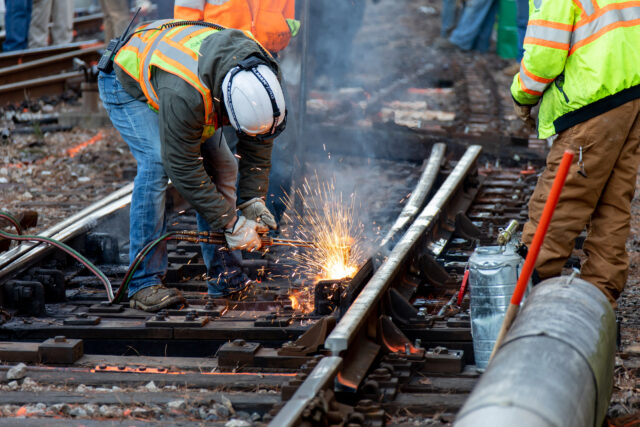 MARTA track replacement project @ Buckhead and Medical Center stations
ATLANTA—The Metropolitan Atlanta Rapid Transit Authority's (MARTA) track replacement project between Buckhead and Medical Center stations is progressing and in fact, is ahead of schedule, officials said today (Feb. 20).
Crews began work on Friday night and as of this morning, had most of the crossties laid out and in position with rail sitting on them, ready to be fastened down, officials stated in an update. The work is scheduled for completion on Thursday, Feb. 24, 4 a.m.
MARTA is investing approximately $225 million on its heavy rail lines to enhance the safety of the rail system, reduce train delays, and improve the customer experience.
Here's a look at the work done on Saturday and an interview with Sr. Project Manager Anthony Riviere VIDEO – OneDrive (live.com).
Red Line rail service south of Dunwoody station has been suspended while work is under way.
Free bus shuttles continue to move customers between Dunwoody, Medical Center, Buckhead, and Lenox rail stations.
MARTAConnect is also available to customers. The $15 Uber or Lyft voucher can be used twice daily to travel to or from the affected rail stations. The voucher can be downloaded using the QR codes in our rail stations, off MARTA's social media accounts, or by clicking on one of the following:
Uber: https://r.uber.com/rYbKGHdkWV5
Lyft: https://lyft.com/lp/NORTHLAND22
MARTA (itsmarta.com) (under service alerts)
The work concludes overnight on Wednesday, Feb. 23, and regular rail service through the area resumes the morning of Thursday, Feb. 24.
Photos provided by MARTA.