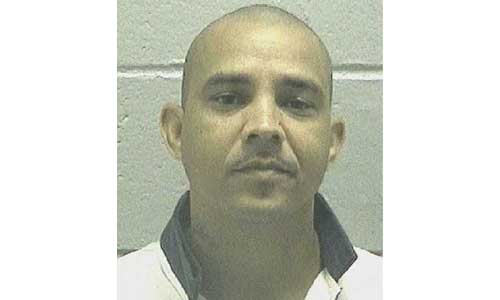 The execution of Marion Wilson, Jr. for the 1996 murder of an off-duty prison guard was carried out on June 20 at 9:52 p.m. at the Georgia Diagnostic and Classification Center in Jackson, Georgia. Wilson was executed by lethal injection. The sentence was carried out after the United States Supreme Court denied his request for a stay of execution.
Wilson and Robert Earl Butts Jr. were convicted of murder and sentenced to death in the March 1996 slaying of Donovan Corey Parks, 24.  Butts was executed in May 2018. He was 40.
Wilson, 42, took about 10 deep breaths, paused and then took a few more breaths falling still, a reporter for the Associated Press said.  Wilson was the second person executed in Georgia this year, according to the Death Penalty Information Center.
Authorities said Butts and Wilson asked Parks for a ride outside a Walmart store in Milledgeville and then fatally shot him a short distance away. The pair then stole Parks' car.
The Georgia Supreme Court summarized the facts of the case as follows:
The evidence at trial showed that on the night of March 28, 1996, the victim, Donovan Corey Parks, entered a local Wal-Mart to purchase cat food, leaving his 1992 Acura Vigor parked in the fire lane directly in front of the store. Witnesses observed Wilson and Robert Earl Butts standing behind Parks in one of the store's checkout lines and, shortly thereafter, speaking with Parks beside his automobile. A witness overheard Butts ask Parks for a ride, and several witnesses observed Wilson and Butts entering Parks's automobile, Butts in the front passenger seat and Wilson in the back seat. Minutes later, Parks's body was discovered lying face down on a residential street. Nearby residents testified to hearing a loud noise they had assumed to be a backfiring engine and to seeing the headlights of a vehicle driving from the scene. On the night of the murder, law enforcement officers took inventory of the vehicles in the Wal-Mart parking lot. Butts's automobile was among the vehicles remaining in the lot overnight. Based upon the statements of witnesses at the Wal-Mart, Wilson was arrested. A search of Wilson's residence yielded a sawed-off shotgun loaded with the type of ammunition used to kill Parks, three notebooks of handwritten gang "creeds," secret alphabets, symbols, and lexicons, and a photo of a young man displaying a gang hand sign.
Wilson gave several statements to law enforcement officers and rode in an automobile with officers indicating stops he and Butts had made in the victim's automobile after the murder. According to Wilson's statements, Butts had pulled out a sawed-off shotgun, had ordered Parks to drive to and then stop on Felton Drive, had ordered Parks to exit the automobile and lie on the ground, and had shot Parks once in the back of the head. Wilson and Butts then drove the victim's automobile to Gray where they stopped to purchase gasoline. Wilson, who was wearing gloves, was observed by witnesses and videotaped by a security camera inside the service station. Wilson and Butts then drove to Atlanta where they contacted Wilson's cousin in an unsuccessful effort to locate a "chop shop" for disposal of the victim's automobile. Wilson and Butts purchased two gasoline cans at a convenience store in Atlanta and drove to Macon where the victim's automobile was set on fire. Butts then called his uncle and arranged a ride back to the Milledgeville Wal-Mart where Butts and Wilson retrieved Butts's automobile.
Wilson v. State, 271 Ga. 811, 812-813 (1999).
Additionally, Chief Judge Carnes of the Eleventh Circuit prepared a concurrence emphasizing Wilson's extensive criminal history:
Wilson's wholehearted commitment to antisocial and violent conduct from the age of 12 on not only serves as a heavy weight on the aggravating side of the scale, it also renders essentially worthless some of the newly proffered mitigating circumstance evidence. …For example, a number of Wilson's teachers signed affidavits, carefully crafted by his present counsel, claiming that Wilson was "a sweet, sweet boy with so much potential," a "very likeable child," who was "creative and intelligent," and had a "tender and good side." One even said that Wilson "loved being hugged." A sweet, sensitive, tender, and hug-seeking youth does not commit arson, kill a helpless dog, respond to a son's plea to quit harassing his elderly mother with a threat "to blow . . . that old bitch's head off," shoot a migrant worker just because he "wanted to see what it felt like to shoot someone," assault a youth detention official, shoot another man in the head and just casually walk off—all before he was old enough to vote. Without provocation Wilson shot a human being when he was fifteen, shot a second one when he was sixteen, and robbed and shot to death a third one when he was nineteen. …
Wilson v. Warden, 774 F.3d 671, 683 (11th Cir. 2014) (vacated on other grounds).
Trial (1996-1997)
Wilson was indicted in the Superior Court of Baldwin County, Georgia for malice murder, felony murder, armed robbery, hijacking a motor vehicle, possession of a firearm during the commission of a crime and possession of a sawed-off shotgun.
Wilson was convicted as charged in the indictment and sentenced to death on November 7, 1997.  Thereafter, Wilson filed a motion for new trial, which was denied on December 18, 1997.
Direct Appeal (1999-2000)
Wilson's case was appealed to the Georgia Supreme Court.  The Georgia Supreme Court affirmed Wilson's convictions and death sentence on November 1, 1999.  Wilson v. State, 271 Ga. 811 (1999).  The United States Supreme Court denied Wilson's request to appeal on October 2, 2000.  Wilson v. Georgia, 531 U.S. 838 (2000), rehearing denied, Wilson v. Georgia, 531 U.S. 1030 (2000).
State Habeas Corpus Proceedings (2001-2010)
Wilson filed a petition for a writ of habeas corpus in the Superior Court of Butts County, Georgia on January 19, 2001.  An evidentiary hearing was held on February 22-23, 2005.  On December 1, 2008, the state habeas corpus court entered an order denying Wilson state habeas relief.  The Georgia Supreme Court denied Wilson's appeal on May 3, 2010.  The United States Supreme Court denied Wilson's request to appeal on December 6, 2010. Wilson v. Terry, 562 U.S. 1093 (2010).
Federal Habeas Corpus Proceedings (2010-2019)
Wilson filed a petition for a writ of habeas corpus in the United States District Court for the Northern District of Georgia on December 17, 2010.  On December 19, 2013, the district court denied Wilson federal habeas relief.  The Eleventh Circuit Court of Appeals affirmed the district court's denial of relief on August 10, 2018.  Wilson v. Warden, Georgia Diagnostic & Classification Prison, 898 F.3d 1314 (11th Cir. 2018).  The United States Supreme Court denied Wilson's request to appeal on May 28, 2019.  Wilson v. Ford, 2019 U.S. LEXIS 3640 (2019).