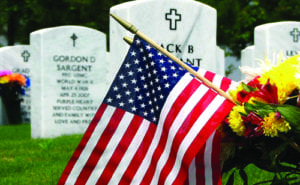 For many, Memorial Day marks the kickoff of summer—a time for backyard barbecues and the NBA playoffs. But there is a more serious side to the national holiday: Memorial Day is the time when we pay homage to America's soldiers for their sacrifice and protection to this country.
The first observance to the nation's soldiers, May 30, was established as Decoration Day after the end of the Civil War, according to the U.S. Department of Veterans Affairs website. The website says that in 1971, Memorial Day was officially declared a national holiday and set the last Monday of May.
Here's a look at local ceremonies planned to commemorate the holiday:
DeKalb County's 15th Annual Memorial Day Program 
DeKalb County's 15th annual Memorial Day Program will be held Friday, May 27, 11 a.m., at the Manuel Maloof Auditorium,1300 Commerce Drive, Decatur.
The theme for this year's event, "A Living Memorial: Women Veteran Entrepreneurs and Professionals," honors women who currently serve or have served in the military, especially those who have paved the way for others to succeed in business. Alisa Williamson, president and CEO of Glory Professional Cleaning Services, is the keynote speaker.
Interim CEO Lee May, the DeKalb Board of Commissioners and the Veterans Affairs Advisory Board of DeKalb County are presenting the program.
Rockdale's Walk of Heroes to honor Vietnam veterans 
The Walk of Heroes Veterans War Memorial, 3001 Black Shoals Road, Conyers, will host its annual Memorial Day program.
The first part of the program will be held from 11 a.m. to noon and will feature keynote speaker James Blaylock, a marine who was wounded in combat during the Vietnam War. Blaylock is the past state and national commander of the Military Order of the Purple Heart.
The afternoon events include a patriotic concert performed by Rejoys, 3:15 to 3:45 p.m. Certificates of honor will be presented to Vietnam war veterans who served from June 1, 1954 to May 15, 1975.
Army Specialist Kyle E. Gilbert to be remembered in Gwinnett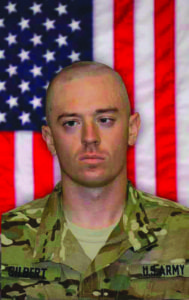 Gwinnett County officials will remember Army Specialist Kyle E. Gilbert during the 13th annual Memorial Day ceremony on Memorial Day, at 1 p.m., at the Gwinnett Fallen Heroes Memorial in Lawrenceville.
Gilbert, a Lawrenceville native and graduate of Mill Creek High School, died as a result of friendly fire last September in Bagram, Afghanistan. Gilbert's name is the first to be added to the Gwinnett Fallen Heroes Memorial since 2011.
Guests are invited to attend the ceremony to pay tribute to Gilbert and other fallen heroes who have sacrificed their lives to protect our nation.
The keynote address will be given by Brig. Gen. Thomas Carden, Assistant Adjutant General – Army, Georgia Department of Defense Commander, Georgia Army National Guard. Other officials scheduled to speak include Gwinnett County District 3 Commissioner Tommy Hunter and the mayors of Lawrenceville and Lilburn. Law enforcement honor guard members will also take part in the ceremony.
The Gwinnett Fallen Heroes Memorial, located on the grounds of the Gwinnett Justice and Administration Center, 75 Langley Drive in Lawrenceville, honors all Gwinnett residents who died in the line of duty in military or public service. The memorial opened in 2003 and was built with funds from private donations and Gwinnett County government.
For more information about the memorial, visit www.gwinnettfallenheroes. com.