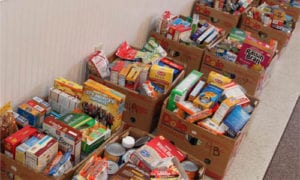 LITHONIA, GA—Lithonia First United Methodist Church, 3099 Stone Mountain Street in downtown Lithonia, is operating a food bank for needy residents living in 30038 and 30058 ZIP codes
Weekly, residents can select from a wide range of goods including bread, bakery items, meat, and sundry items every Monday from 11 a.m. until 1 p.m.  Registered participants can also pick up a bag (or bags, depending on family size) of groceries every 28 days on Mondays or on the second Saturday of each month, also from 11 a.m. until 1 p.m.
Those receiving food are required to wear face masks and be vaccinated to enter the building. Outside services will be available to all as the weather warms up.
For more information, call the church office between the hours of 9 a.m. and 2 p.m., Monday through Thursday: 770-482-6394.
The Rev. Jeffery O'Neal serves as senior pastor at Lithonia First United Methodist Church, which is known in the community as the church with the Red Doors.