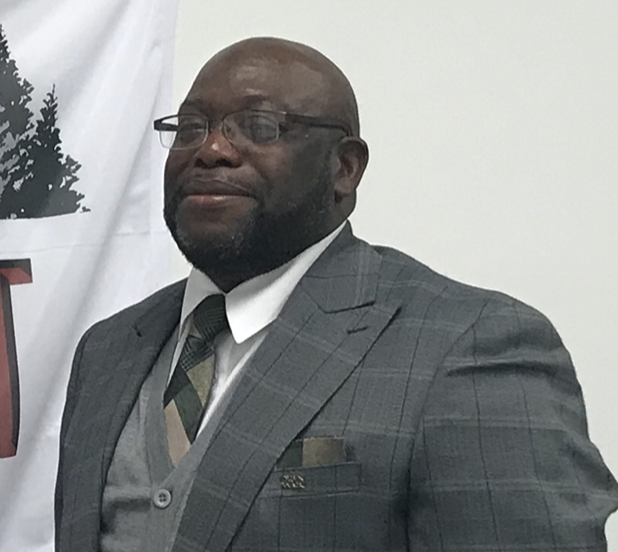 STONECREST, GA—Kirby Frazier, a U.S. veteran who has a background in business administration, is running for mayor of the City of Stonecrest.
Frazier, 58, filed qualifying papers on Wednesday, March 9. He is one of four candidates seeking to fill the unexpired term of Jason Lary, who resigned as mayor. The special election will be held on May 24.
In a news release, the former paratrooper and sergeant stated that he was a member of the 1st Infantry, serving during the COLD War era, and the U.S. Army Europe and the Gulf War eras. As a service-connected disabled COLD War veteran, Frazier is a life member of the Disabled American Veterans. He is also a member of Omega Ps Phi fraternity.
Frazier noted in his press release his stance on Russia's current widespread invasion and attack on Ukraine, stating "I stand with the people of Ukraine in Europe."
A Stonecrest resident since 2018, Frazier touted his background in business administration and his involvement with several federal agencies including formerly serving on the Atlanta Veterans Administration Improvement Board.
Frazier graduated from Strayer University in 2009 with an MBA in Acquisition Management. He received a B.S. degree in Electrical Engineering Technology from South Carolina State University, an Historically Black College and University (HBCU).
Frazier served as a former Chairman of the Board/CEO of the Atlanta Chapter of the National Contract Management Association (NCMA), which caters to the state of Georgia's contract management professionals and engineers.
Frazier received Strayer's 2015 Outstanding Alumni of the Year Award for his leadership with NCMA's Atlanta Chapter, where he forged partnerships with local universities and key government entities. He said under his leadership, the chapter provided continuing education for government contract management to several corporate sectors and key federal agencies including the Centers for Disease Control and Prevention, U.S. General Services Administration, Veterans Administration and the Department of Housing and Urban Development, to name a few.
"I'm running to restore trust in the city of Stonecrest. I want to make sure we have fair and affordable housing and continue to expand on economic development," said Frazier.