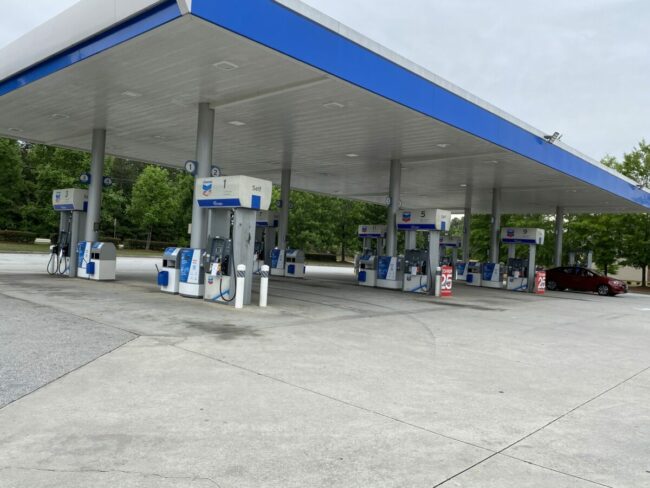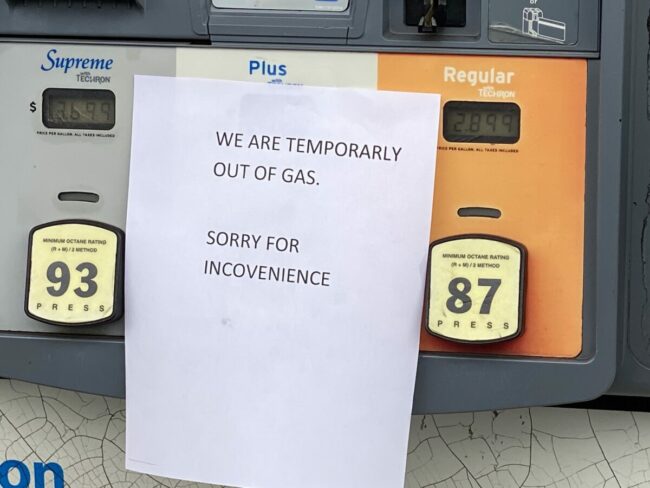 No Gas: This Chevron station on Sigman Road in Conyers was empty Tuesday, May 11. Signs displayed at all of the fuel pumps stated the station was temporarily out of gas. Photos by Glenn L. Morgan

ATLANTA—Gov. Brian Kemp today (May 11) declared a   State of Emergency  as a result of the petroleum shortage from the May 7 cyber attack on the Colonial Pipeline. The State of Emergency will remain in effect through 11:59 p.m. on May 15.
The Alpharetta-based Colonia Pipeline shut down most of its system after a ransomware attack, saying it plans to "substantially" restore services by the end of the week. The company supplies about 45 percent of the East Coast's fuel.
With the State of Emergency, Georgia's price gouging statutes were activated. Businesses may not charge more for products and services identified by the Governor, including motor fuel and diesel fuel, than they charged before the declaration of the state of emergency.
Only the following exceptions would permit higher charges: increased prices accurately reflect an increase in the cost of new stock or the cost to transport it, plus the retailer's average markup percentage applied during the 10 days immediately prior to the declaration of the state of emergency.
Under the Price Gouging Statutes, the Department of Law's Consumer Protection Division (CPD) receives and evaluates reports related to a rise in the costs of goods and services after the declaration is made.
"While we believe this to be a short-term event, we do not want consumers to be taken advantage of," said Attorney General Chris Carr. "Our office will review all price gouging complaints received to ensure the law is followed."
Consumers should also be aware that the Public Health State of Emergency originally issued by the Governor on March 14, 2020 to assist with the state's response to Covid-19 is currently in effect through May 30, 2021. That order prohibits price gouging of goods and services necessary to support public health.
Violators of Georgia's price gouging statutes may be fined up to $5,000 per violation. Consumers can report suspected price gouging by calling 404-651-8600 or 1-800-869-1123 (outside metro Atlanta) or completing the online complaint form on CPD'S website (consumer.ga.gov).
Businesses looking for additional information about compliance with the Price Gouging Statutes can visit the CPD web site at consumer.ga.gov, go to the "Business Services" tab and then click on "Emergency Price Controls."
The average price for a gallon of regular unleaded in Georgia on Tuesday was $2.87, up 11 cents from a week ago.