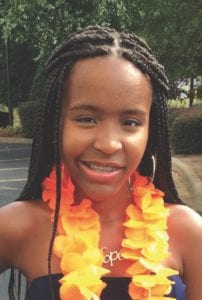 Kayla McGee, the 12-year-old daughter of Kevin and Attorney Dionne McGee, wanted to do something to recognize Childhood Cancer Awareness this month. So the DeKalb County girl set a goal of raising $1,000 to support the CURE Childhood Cancer Foundation. Her mom, however, was happy to report to Facebook friends recently that Kayla surpassed her goal with donors giving more than $3,000 so far. With a few days left in September, she's hoping more people will show their support.
"She is still going strong….Thanks so much for all of the support," Dionne McGee said in a Facebook post.
Kayla was featured on 11Alive's Facebook page for her courageous battle with cancer. Kayla was diagnosed with kidney cancer in April 2015. Her whole world suddenly changed and so did that of her mom, dad, and younger sister Amaya, who was 9, after the family learned Kayla was gravely ill.
Kayla was trying on dresses for her 7th grade dance when her mother noticed that Kayla's stomach was slightly enlarged. Concerned, her mom made an appointment for Kayla to see a doctor. Initially, the doctor didn't think anything was abnormal but after several scans over the next 24 hours, the diagnosis changed–dramatically.
Kayla was diagnosed with Wilms Tumor, a form of kidney cancer. She was admitted to the hospital for emergency surgery on her right kidney. Doctors removed a 3-1/2 pound tumor along with Kayla's right kidney. That was the start of her journey and battle with cancer. Eight weeks later, doctors removed half of her liver. She had to have radiation and chemotheraphy.
Today, Kayla has had three cancer-free scans and she and her family are excited about her future. They feel a greater sense of compassion and a willingness to help others.