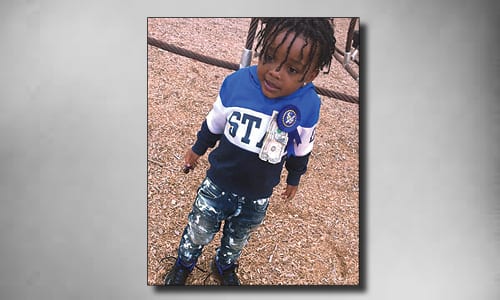 DeKalb County Police have arrested a 15-year-old male suspect in the  fatal Easter shooting of a 3-year-old toddler who was sleeping in the back seat of his mother's SUV.
Police made the arrest around 2 p.m. on April 11—10 days after T'Rhigi Diggs was shot in the chest as his mother, Rashonda Craig, was driving around 11:30 p.m. on Bouldercrest Road near Eastland Road in East Atlanta. The juvenile was charged with murder. His name was withheld because of his age.
Police Chief James W. Conroy said detectives worked tirelessly to locate witnesses who were at the gas station near the intersection the night the child was killed.
The loss of T'Rhigi is tragic and senseless. It is my hope that this arrest will bring some sense of comfort and closure to his family," Conroy said.
The toddler had celebrated his third birthday two days before the shooting, relatives said. Family and friends held a candlelight vigil for T'Rhigi as his parents grieved. He was buried on April 7.
Be Someone founder Orrin "Checkmate" Hudson who teaches young people how to make the right choices through the game of chess, said he was saddened by the child's death. Hudson said he is praying for the family and he is inspired to work even harder to make a difference through his program in DeKalb.
"We've got to teach our children to pause, ponder and pray before they proceed. I believe if he (the shooter) had been in my program, we could have made a difference," said Hudson. "I believe we could have changed the trajectory of his life. We have a generation of children who think it's cool to be a thug. We've got to stop this nonsense."
Hudson said he recently trained about 15 juveniles in DeKalb who are in detention.
DeKalb County Police cracked the case after reviewing surveillance footage and locating witnesses at a gas station near the intersection.
Police initially thought the single bullet came from a gray or silver Dodge, which Craig said pulled up beside her black SUV. Craig told police the occupants had a paintball gun. She didn't realize her child had been shot until she pulled over and saw the child bleeding.
Conroy said police determined, however, that based on the trajectory, the shot came from the gas station—not the car that pulled up beside Craig.
Detectives are still looking to locate one other person captured by surveillance footage who has not come forward. This individual is considered a witness and is asked to call DeKalb PD Homicide at 770-724- 7850.