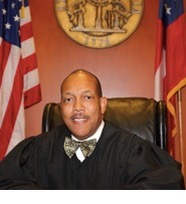 DECATUR, GA—DeKalb County CEO Michael Thurmond announced the appointment of Judge Ronald B. Ramsey Sr. to serve as the chair of the DeKalb Charter Review Commission.
"Judge Ramsey's judicial and legislative experience will be invaluable as we continue reviewing the county charter to ensure that we are responsive to needs of current and future residents of DeKalb," CEO Thurmond said.
Thurmond's executive order, signed in March 2021, charges the Charter Review Commission with identifying potential enhancements and improvements in service delivery or operational structure; and ensuring DeKalb County will be able to respond to any future state of emergency.
Judge Ramsey is the presiding judge of the DeKalb County State Court Division B (formerly Traffic Division), where he has served as a member of that bench since June 2015. In 2000, Judge Ramsey was appointed as the first African-American Municipal Court judge in the City of Stone Mountain, where he served for seven years. Ramsey later served as a Georgia state senator for District 43, representing DeKalb, Rockdale, and Newton counties. Twice honored as "Legislator of the Year," Ramsey was elected chair of the DeKalb Senate Delegation and appointed as chair of the Urban Affairs Committee and vice chair of the Special Judiciary Committee.
In 2019, Thurmond convened the DeKalb Charter Review Commission to conduct a comprehensive review of the Organizational Act that established the county's current Chief Executive Officer and Board of Commissioners form of governance.