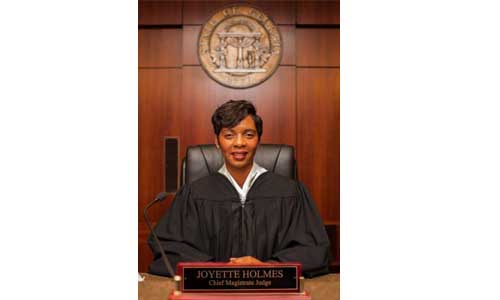 Gov. Brian P. Kemp today named the Cobb Judicial Circuit's Chief Magistrate Judge Joyette Holmes as its incoming District Attorney. Holmes will be the first female and first African-American to serve in this capacity.
Holmes succeeds Victor Reynolds, who was appointed in February as director of the Georgia Bureau of Investigations by Kemp.
"Judge Holmes is a servant leader in her community, and I am very excited to select her as Cobb's new District Attorney," said Kemp. "I know Joyette will put the safety of Cobb families first and always do the right thing – even when no one is watching."
Judge Holmes said she is honored to serve in her new role.
"I am honored to have the opportunity to continue to serve the people of Cobb County, and I thank Governor Kemp for the trust that he has placed in me," said Holmes. "I look forward to ensuring Georgians within my jurisdiction remain safe and continue to prosper in our great state."
Holmes is a native of Valdosta, Georgia. She earned dual bachelor's degrees in psychology and criminal justice. Holmes earned her law degree from the University of Baltimore School of Law in Maryland. Before her appointment as the Chief Magistrate Judge for Cobb County Judicial Circuit, Holmes served as prosecutor under District Attorney D. Victor Reynolds and Solicitor Barry Morgan. Prior to that, she represented clients in in her private practice.