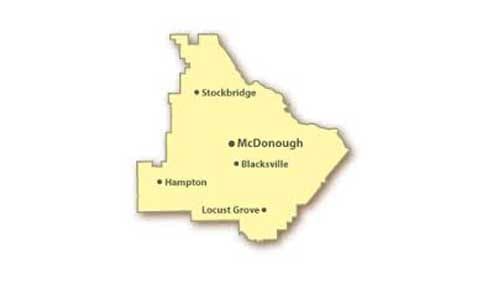 A Henry County couple accused of killing their 2-year-old foster child and injuring her sister after months of abuse, has been convicted. Jurors returned guilty verdicts Aug. 1 on charges of felony murder and several other battery offenses against Jennifer Rosenbaum. Her husband, Joseph Rosenbaum, who was charged with second degree murder, aggravated assault and other offenses was convicted as well for his role in the death of Laila Daniel, age 2.
The case was assigned by the Attorney General's Office to the DeKalb County District Attorney's Office for prosecution due to a conflict with the Henry County District Attorney's Office, where Jennifer Rosenbaum once interned.
The charges against the Rosenbaums stem from an incident on Nov. 17, 2015 inside the couple's Lincoln Terrace home in Henry County. Jennifer Rosenbaum called 911 and reported young Laila was choking on chicken nuggets. Operators talked her through CPR until emergency crews arrived. The toddler was transported to Piedmont Henry Hospital, but was pronounced dead shortly after arrival. Medical Staff called police after noticing extensive bruising on the child's back. While Mrs. Rosenbaum claimed the bruising was from her failed attempts to resuscitate the choking child with CPR and the Heimlich maneuver, the State presented evidence to the contrary during the three-week trial, which began on July 8.
An autopsy revealed extensive internal and external bruising from head to toe, broken bones, and lacerations throughout the victim's body. Additional scientific testing performed by the Medical Examiner showed both old and new injuries. Doctors also testified there was no evidence of choking. The cause of death was blunt force trauma to the abdomen. The investigation and forensic interviews with the toddler's older sister, then 4, revealed both children suffered repeated physical abuse during their four-month stay with the couple.
Henry County Superior Court Judge Brian J. Amero, who presided over the trial, imposed a sentence of Life in Prison plus 40 years on Jennifer Rosenbaum. Joseph Rosenbaum was sentenced to 50 years to serve 30 with the balance on probation.
The case was prosecuted by Daysha Young, Director of the Special Victims Unit, along with Edward Chase, Director of Litigation and Training, and Deputy Chief Assistant District Attorney Mirna Andrews, head of the District Attorney's Sexual Exploitation and Crimes Against Children Unit, with assistance from DA Investigators Terri Jackson and Tina Fleming. Detective Aris Thompson of the Henry County Police Department, led the initial investigation.