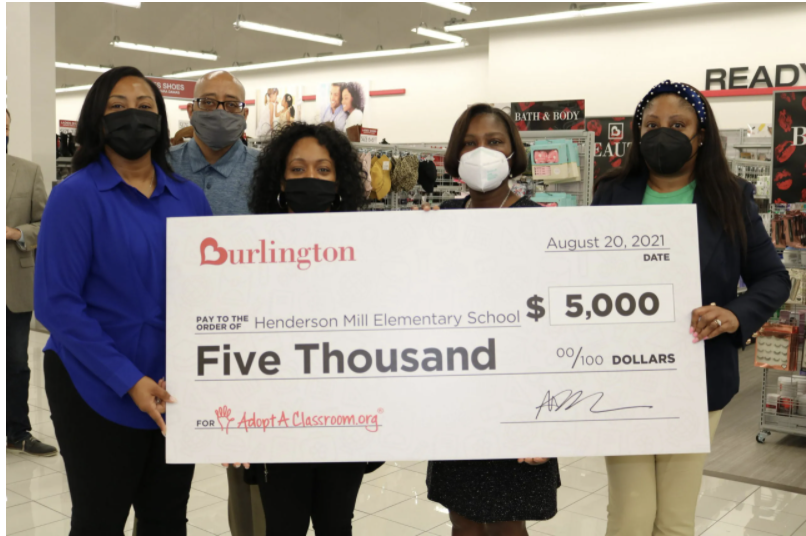 DEKALB COUNTY, GA– Henderson Mill Elementary School received a $5,000 donation from Burlington Stores, the national off-price retailer, through the company's partnership with the national non-profit organization, AdoptAClassroom.org. The donation, which will be used for school supplies, was made l in celebration of Burlington's  new store now open in Tucker at 2126 Henderson Mill Road.
A representative from AdoptAClassroom.org contacted school administrators and helped to secure the donation for Henderson Mill, which will provide at least $100 in new supplies for each teacher's classroom.
According to Principal Cassandra Moore, the teachers will use the funds on a number of new classroom items.
"On behalf of the DeKalb County School District and Henderson Mill Elementary School, I would like to welcome our new local Burlington store and thank them and AdoptAClassroom.org for their generous donation to our school," said Moore. "We appreciate Burlington's and AdoptAClassroom.org's generosity. Our school will put the donation to good use in supporting our teachers and students."
Burlington is committed to supporting education through its partnership with AdoptAClassroom.org. Each time Burlington opens a new store, Burlington celebrates by adopting and funding a local elementary school in their store community. The new Burlington store is now open at 2126 Henderson Mill Road in Tucker and provides 'wow- deals' for the entire family and home.
"What I love about Burlington is that any time we go into a community, we actually like to give back to that community," said Monique Alexander, Burlington Stores district manager. "Normally, other retailers would give back to some national organization, but we actually give back to a school in that community. Giving back to us is really important because we know that without the support of families and community, we wouldn't be here. That's the reason why we want to give back to the places that we're retailers in."