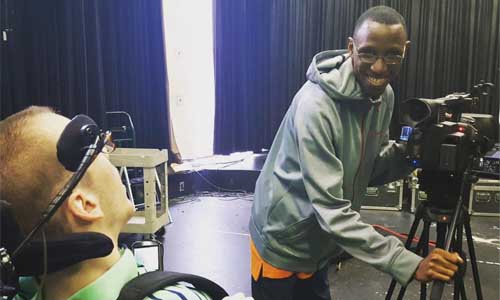 If De'onte Brown could've somehow seen into the future on his first day of class at Georgia State University in 2017, he would've been very surprised by his transformation. In what felt that day like a fast-paced new world has become a place that feeds his creativity.
"Once you get used to campus and used to the teachers, then you start to do better," De'onte said.
He is a student of film and video production in Georgia State University's Inclusive Digital Expression and Literary program, known as IDEAL. The post-secondary education course of study is for students with intellectual disabilities, and a project of the Center for Leadership in Disability on the GSU campus. De'onte's disability is developmental delay. He attends classes with students without intellectual disabilities.
His associate professor Niklas Vollmer witnesses remarkable growth in IDEAL students as they become aware that they are included in the Georgia State University culture.
"In the beginning they have peer mentors assisting them and eventually they shed insecurities and gain more confidence," Vollmer said. "They are learning how to create their own artwork and films whether as actors, behind the camera or recording sound."
For class, De'onte made a short film of his life as an IDEAL student.
"He showed how he got himself together in the morning, how he leaves the house and gets on the bus, arrives at school, and who he hangs out with," said Vollmer.
"I was stunned by that shift of confidence and the command of who he is. It was like he said, 'I'm going to show you my community, how I get to school and my day.'"
IDEAL formally started in January 2017 with five semesters and two students who audit classes during the course of two and half years. Students attend two classes with fellow undergraduate schoolmates in art, film, theater and music. In addition, Spenser Norris, the academic inclusion coordinator. teaches a specialized course in independent living skills.
Eleven students are currently in the program. Two will graduate in May with a certificate in career development and readiness with an area of emphasis.
An on-campus internship is offered during the second year of the program at such places as the student radio station or newspaper.
Vollmer and Andy Roach, an associate professor in Counseling and Psychological Services are co-directors of the IDEAL program.
"When the Center for Leadership started getting involved in the post-secondary programs and working with the Georgia Council on Developmental Disabilities and other stakeholders in the state, we started discussion [wondering] 'Can we do this at GSU?'"
In 2015, two potential IDEAL students informally audited Vollmer's film classes.
"They seemed really engaged and excited about filmmaking and technology," recalled Roach. "And then we realized that filmmaking, photography, music and arts might be areas where they could find their voice and express themselves in ways that more traditional avenues [weren't] open for them."
Nicholas Moore was one of IDEAL's pilot students who helped to pave the way for the current program. The Alpharetta High School graduate is diagnosed with autism and was interested in animation and film, as he was a volunteer on the middle school film production team at church.
"We owe a lot to Nicholas," said Vollmer. "There was no infrastructure or protocol to support him besides a handful of faculty and staff members who were trying to keep him rolling along. Without knowing it, we were building IDEAL."
Nicholas took at least four film-related classes and became skilled in incorporating music and animation. And though he does not have the same level of speaking skills as typical students, Nicholas bonded quickly with his classmates.
"Definitely people in the class got to see a whole different perspective from Nicholas," said Matthew Mammola, a former graduate research assistant. "He would show his work in front of the class. One of the things he is into is stop-motion animation and he creates short films."
Rita Young, Nicholas's mother said the GSU experience was one of the best of his life. "He loved the fact that classes were very different from high school and focused on doing work," she added. "He would talk about film that the class watched and he had exposure to different genres and directors. It was very inspiring to him."
Even now that Nicholas is out of school, Vollmer is mentoring him on a short film that he's creating. The IDEAL program student age range is 18-26.
"Students are both excited and nervous to be coming to college with their peers," said Norris. "We do a lot of orientation before school starts."
IDEAL students learn the campus landscape and meet typical undergraduates and peer mentors. As weeks go by, they begin to enjoy college life and embrace new responsibilities in much the same way as any other college student. "Very quickly many discover that 'I can go to the student center by myself. Or go to the [recreation] center and find someone to play basketball with," explained Roach.
De'onte, who had no previous film skills before attending GSU, has learned to edit his own work and that of others. He is also comfortably working at the campus television station, GSTV. Last semester, classmates noticed De'onte's all-around talents and cast him as lead character in their film production.
"Last year in my film class, [Vollmer] would switch us into groups and we found that we were working together so well that we told him that we wanted to stay in our group," De'onte said.
On a day that affirmed the friendships that De'onte has made, the class wrote how they felt about each other on a piece of paper. De'onte's notes said that he uplifts others adding, "You are sweet and have a great personality. You are a very cool person. You are super cool."
Georgia State's IDEAL program is a part of the Georgia Post-Secondary Education Consortium, a group dedicated to ensuring that every Georgia student has access to learning after high school, regardless of intellectual or developmental disability. The Consortium includes all nine colleges and universities in Georgia that currently have college programs for students with intellectual and developmental disabilities, agency leaders and educators.