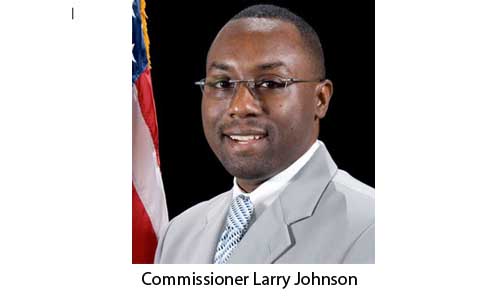 DECATUR, GA—DeKalb County Commissioner Larry Johnson was honored by the Greater Georgia Black Chamber of Commerce (GGBCC) with the inaugural Lou and Theresa Walker's Legacy Award. Johnson received the award during the GGBCC's "History of Black Businesses: Past, Present, Potential and Potency" epic event on Feb.  17.
Johnson was unanimously chosen by GGBCC as the first recipient of this award for consistently demonstrating exemplary leadership and excellence—two of the GGBCC's core values. He received this award for his commitment to excellence and empowerment to strengthen black, small, women and veteran businesses in DeKalb County, in Georgia and nationally.
"It's our history, our story and we own it," said GGBCC Founder/ President & CEO Melinda C. Sylvester. "GGBCC is excited to continue the Walkers' great legacy and are honored to have Commissioner Johnson as the first recipient!"
When GGBCC was launched in 2016, Commissioner Johnson was one of the first leaders to assist GGBCC to know the first Black Chamber Georgia history, which was founded by Lou and Theresa Walker. GGBCC stands on their shoulders. The History of Black Business Event is designed to share the stories and successes of what excellence looks like.
"This award has a very special meaning to me because of the names in which the honor was given," Commissioner Johnson said.  "I am humbled and grateful for this most prestigious award."