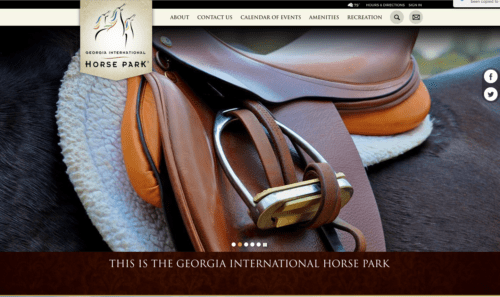 The Georgia International Horse Park says it is enhancing its world-class image with the launch of its new website at www.georgiahorsepark.com. The site, designed by staff in conjunction with Saffire, a software company based in Austin, Texas, and Portland, Oregon, specializes in providing venues, events and destinations with simple, interactive platforms for websites.
The new website visually tells the story of the Georgia International Horse Park by highlighting its history, facilities, amenities and event calendar through photos, maps, downloadable forms and more. New forms and maps have been added to the site to aid event planners with the ultimate event experience at the park.
"Ninety percent of our event and show promoters are from out of town, so providing resources like the new features on the website and marketing the city's new Guide to Conyers mobile app really help us connect with and more effectively assist those planning memorable events at the horse park," said Rebecca Hill, sales and marketing manager at the horse park.
The horse park welcomes more than 750,000 guests annually for a year-round calendar of events and recreational pursuits including mountain bike and horseback riding trails, the Rockdale County Master Gardeners Memorial Arboretum, the North Georgia Live Steamers and the Big Haynes Creek Nature Center. F
For more information, call 770-860-4190.