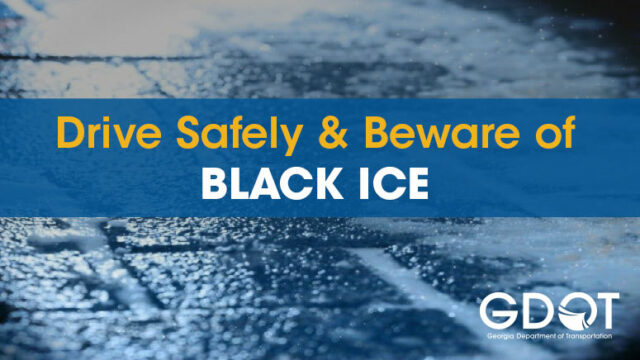 With precipitation expected to continue as temperatures drop below freezing across north Georgia into Sunday evening, the Georgia Department of Transportation (Georgia DOT) reminds drivers of the potential for black ice to develop when wet roads freeze.
Black ice could form on roadways in any of the 91 north Georgia counties affected by the current winter weather system.
Black ice is a thin, often invisible sheet of ice that forms on the roadway, especially on bridges, overpasses and low-lying areas. It can form at any time when temperatures drop below freezing and there is any form of moisture on the road way.
If a motorist experiences black ice, it is imperative not to slam on the brakes or overcorrect steering. This can cause a driver to lose control of their vehicle. Georgia DOT encourages drivers to stay off the roads. However, if travel is necessary, remember to drive slowly; buckle up; and drive alert. Pay attention to changing road conditions.
The safest way to avoid potentially unsafe conditions on Georgia roads is to stay home and avoid all unnecessary travel.
For a list of resources and materials related to Georgia DOT's winter weather preparedness including region specific fact sheets, photos and video, please visit http://www.dot.ga.gov/DS/Emergency/WinterWeather.