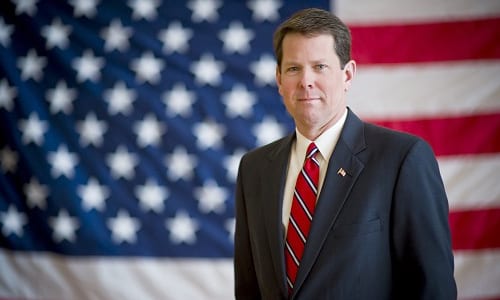 Today, Gov. Brian P. Kemp announced that the State of Georgia successfully sold $1.133 billion in two different series of general obligation bonds to fund new construction projects and equipment, make repairs and renovations to existing facilities, and purchase and retire outstanding bonds to achieve debt service savings.
"Georgia works diligently to maintain our coveted triple-A bond rating," said Gov. Kemp. "I am incredibly proud of our state's fiscal responsibility and efficient use of taxpayer resources, and I commend Lieutenant Gov. Geoff Duncan, Speaker David Ralston, and the General Assembly for their partnership to maintain Georgia's strong financial track record. This very successful bond sale allows us to continue to invest in critical renovations and repairs of capital projects all across the Peach State, ensuring previous investments in the state's existing facilities are preserved and that the facilities continue to meet both current and future needs of citizens, support economic growth, and provide job opportunities within Georgia's construction industry."
The Georgia State Financing and Investment Commission – responsible for issuing the state's bonds – approved the bond sale at its meeting(Aug. 20). The bond issues were sold on a competitive basis via five different bids with investors showing solid demand for Georgia's highest-rated bonds.
The overall true interest rate cost for the bonds was 1.5242 percent, which was the lowest ever for an issue of the state's general obligation bonds. The interest on all the bonds is exempt from Georgia state income taxation for in-state residents, and a large portion of the bonds are exempt from federal income taxes.
Three of the bids were for the 2020A bonds, which are exempt from federal income taxes. The state achieved rates of 0.21 percent for the five-year bonds; 0.52 percent for the ten-year bonds; and 1.63 percent for the twenty-year bonds for a blended rate of 1.56 percent for the 2020A tax-exempt bonds. Two of the bids were for the 2020B bonds, which are subject to federal income taxes, with those rates at 0.43 percent for the five-year bonds and 1.46 percent for the 20-year bonds for a blended rate of 1.43 percent for the federally taxable 2020B bonds.
The largest amount of funding provides over $378 million for local school systems' K-12 and state schools projects. The second largest amount of funding provides over $302 million for Board of Regents projects for the University System of Georgia. The Department of Transportation will receive over $152 million for roads, bridges, and rail projects. The Technical College System of Georgia will receive over $99 million for various projects.
"Providing state-of-the-art facilities and equipment to educate Georgia's elementary, secondary, and higher education students is an important component of preparing children and young adults for future employment opportunities," said Governor Kemp."Additionally, by maintaining the state's existing infrastructure facilities and renovating them to meet the needs of tomorrow, we can ensure that those facilities contribute to our state's long-term prosperity and that prior investments were made well."
Fitch, Moody's, and Standard & Poor's rating agencies assigned their triple-A bond rating with a stable outlook to the State's General Obligation Bonds last week.